It is hunting and shooting sports for the enquiring mind, this week. Find out the answers to these questions:
☆ Does a stuffed fox attract other foxes?
☆ Is modern thornproof clothing better than a waxed jacket?
☆ Does anyone care about rural crime?
☆ How much do bullets ricochet off water?
We are foxshooting in Essex, we have the white fox of Ireland (shot by a viewer), we are bouncing bullets off a Scottish loch, and we are being dragged through a hedge backwards. It is all in this week's Fieldsports Britain.
Here are the links:
▶ Essex foxshooter
▶ News Stump
▶ Thornproof test
▶ Bouncing bullets
▶ Hunting YouTube
Here are the links to Hunting YouTube:
Josh James Kiwi Bushman www.youtube.com/watch?v=AhXBzFEQxKw
Jagdbuerokahle www.youtube.com/watch?v=qsS0ete0MZE
Wild Jaeger www.youtube.com/watch?v=3o0NrzJIKaU
Keith Warren www.youtube.com/watch?v=3FrhxKrHAKA
Australian Shooting Channel www.youtube.com/watch?v=QTLcL98MCGU
GetFoxedTV www.youtube.com/watch?v=mSuUgCy7cnk
Nigel Humphreys www.youtube.com/watch?v=zbo4Kvyeb8k
Benjamin Vedder www.youtube.com/watch?v=rvnBVxn5TXo
PS If you want to help David be selected as Conservative candidate, come to any of three public meetings in Somerset Friday 16th October in North Petherton, the morning of 17th October in Westbury on Trym or the afternoon in Somerton. To register to attend ring 01278 423110 or email pcc@somersetconservatives.com
▶ Shares 
To find out how to join the Fieldsports Nation, visit FieldsportsChannel.tv/shares or to sign up and pledge, go to fieldsports.envestry.com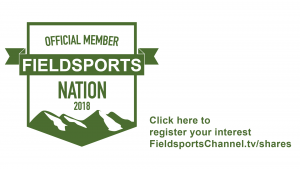 We're proud to promote enjoyment of fieldsports and the countryside. There are three guiding principles to everything we do on Fieldsports Channel:
▶ Shoot responsibly
▶ Respect the quarry
▶ Ensure a humane, clean and quick kill
Take part in nature. Join the Fieldsports Nation Fcha.nl
Risk warning: investments of this nature carry risks to your capital as well as potential rewards. Approved as a financial promotion by Envestors Limited. Which is authorised and regulated by the Financial Conduct Authority (No. 07236828.)
Sign up for our weekly email newsletter FieldsportsChannel.tv/register