Who is the best sporting clay shooter in the world? Maybe the legendary George Digweed? Or Olympic gold medallist Richard Faulds? Perhaps one of the top American shooters, like Anthony Matarese.
We're about to find out, because the world's best shots are at the EJ Churchill shooting ground in Buckinghamshire to battle it out for the title of World English Sporting Champion.
Sam Green has put in a phenomenal score in difficult conditions – but can he hold the lead, and then win through in the six-way Super Final to clinch the title?
Find full results for the World English Sporting, and the associated championships, at CPSA.co.uk
For more about Browning guns go to Browning.eu
For Eley cartridges see EleyHawkLtd.com
More clay shooting coverage from Claysports TV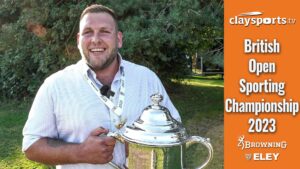 Browning shooter Sam Green tops off a dazzling season by winning the British Open Sporting Championship with superb shooting at Garlands, where Steve Lovatt has
Read More »