Thinking of upgrading to a pre-charged pneumatic airgun? Good choice – but won't that cost you something north of £1,000?
Not necessarily, says Matt Clay at Shooting Sports UK, the Staffordshire and online gun shop. He's offering a complete PCP outfit for under £500.
It's built around the Stoeger XM1, a smart, modern looking pre-charged air rifle that's powerful and accurate enough for hunting as well as plinking and target shooting.
It comes with two magazines and a single-shot sled, and is fitted with a Stoeger 3-9×40 scope that is parallax adjustable down to 10 metres, making it ideal for ratting.
The gun has a moderator as standard, and comes in either .22 or .177 calibre. The blue pistol grip and butt pad spacer on the skeleton-style stock give it a stylish look, and the comb height is adjustable for a perfect fit.
The gun with scope and moderator sells for £299. "Add a three-litre air bottle and you're set to go for under £500," says Matt.
"I've set up a fair few of these for customers. They're pretty easy to zero. I set them up at 15 yards and I can get pellet on pellet accuracy. For the money this combination is absolutely spot on."
Check out the range of airguns and accessories at Shooting Sports UK.
More on PCP and spring airguns from Fieldtester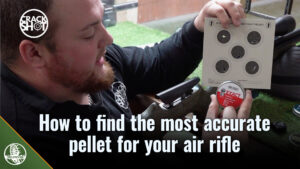 youtu.be/bfEA-6_QZGU To get the best out of your air rifle, you need to find the pellet that works best in your gun. Some air rifles
Read More »