It's all about hogs in the first episode of African Hunter. This series is by Africans for Africans. Find out how the locals do it.
We are in the Winterburgs of the Eastern Cape hunting two of them with bow and rifle, including a couple of monsters – the 'Mountain Boar' and, the really big one, 'Hogzilla'. And then to the north of the country for roan antelope. Bushpig hunting is 'a personal thing,' says one of our hunters.
African Hunter – by Africans, for Africans, every month on Fieldsports Channel. See every episode here: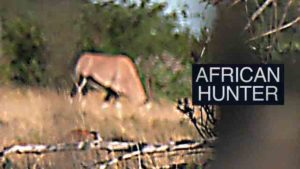 Brought to you by Sniper Clothing SniperAfrica.com
Contacts:
Richard Leonard richard@fieldsportschannel.tv can put you in touch with any of these guys AND film your hunt
Allan Schenk of Allan Schenk Safaris AllanSchenkSafaris.com
Dani Hill of African Bowhunting Adventures AfricanBowhuntingAdventures.com
Rudi van Niekirk of Winterburg Taxidermy WinterbergTaxidermy.co.za
Other sponsors
Hoyt Archery Hoyt.com
For Hoyt bows in South Arica, go to MagnumArchery.co.za
▶ Fieldsports Shop
Visit Fieldsports.shop
▶ Join the Fieldsports Nation and fund our fight for fieldsports in the media
Fcha.nl/fieldsportsnation – for full details
YouTube.com/channel/UCfoEqIFtqfc6xBV185DQnBw/join for YouTube membership
Patreon.com/fieldsportschannel for the same via Patreon
To become a more structural shareholder, visit Fieldsports.Envestry.com
▶ Sign up for our weekly email newsletter Fcha.nl/register
We're proud to promote enjoyment of fieldsports and the countryside. There are three guiding principles to everything we do on Fieldsports Channel:
▶ Shoot responsibly
▶ Respect the quarry
▶ Ensure a humane, clean and quick kill
Take part in nature. Join the Fieldsports Nation Fcha.nl
▶ Why support hunting tourism?
Hunting tourism is part of a system that keeps the rivers, forests and fields intact and maintains the wildlife. Thanks in part to trophy fees, they provide huge sums money for conservation and anti-poaching – much more money that photographic safaris provide. Wildlife is booming in the Southern African hunting countries of South Africa, Namibia and Zimbabwe. They are Africa's wildlife winners. Africa's wildlife losers are the anti-hunting countries, where animals have no monetary value.
Fieldsports Channel proudly supports Safari Club International SafariClub.org
Risk warning: investments of this nature carry risks to your capital as well as potential rewards. Approved as a financial promotion by Envestors Limited. Which is authorised and regulated by the Financial Conduct Authority (No. 07236828.)