What's the best scope to put on your airgun for hunting, and maybe a bit of HFT competition? 
James Head, from Newton Abbot, Devon, and online airgun specialists Crackshot UK, says that two models stand out as the most popular in 2023: the £279 Hawke Airmax, and the £295 MTC Copperhead.
They're both packed full of features, so how do you choose which one is best for you? James explains the similarities, and what sets one scope apart from the other.
"The MTC has got tactical turrets, so you just lift them up and turn them to where you want to," James says. There's a side turret for focus and to adjust the illuminated reticle.
The Hawke has turret caps, which you unscrew and lift off to expose a nice tactical turret underneath. This scope also has side adjustment for focus and an illuminated reticle.
James's personal preference is the Hawke. To him the build quality and optics seem slightly better, and he prefers the reticle design: the lines are slightly thicker, which he finds easier to see when he's aiming off on a windy day.
For more about Crackshot UK, its range of airguns, scopes and accessories, and the ranges in which you can try them out, visit Crackshot.uk
More on airguns from Fieldtester and Fieldsports Channel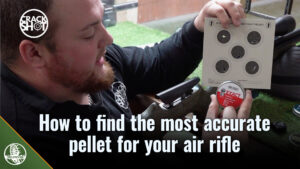 youtu.be/bfEA-6_QZGU To get the best out of your air rifle, you need to find the pellet that works best in your gun. Some air rifles
Read More »