Andy Crow gets the corvids coming in this week when he shoots his biggest ever bag – more than 200 birds. In 'CrowHow' he talks through the hide, the decoys and the techniques needed to get this cunning birds to cooperate.
Also on the show Roy Lupton has a date with a fox – we know the spot but will the animal turn up on time? Roy also has a few tips about baiting and shooting from a first floor window surrounded by home comforts – no kebab this time.
We have Skinners gundog training tips for in front of the TV or even the computer. We have 'Hallo Charlie!' from all over the planet and Hunting YouTube much closer to home.
You can't miss this week's Fieldsports Britain. It's all the hunting, shooting and fishing you could hope for.
Here are the Hunting Youtube links:
NFM Curator www.youtube.com/watch?v=JVBP28kYnEU
DagensNaringslivTV www.youtube.com/watch?v=qVA7OWgXqhU
MacLaurinMedia www.youtube.com/watch?v=BjPAAXP9yrY
HardyFishing www.youtube.com/watch?v=DTeIuqOvULA
Sportfish www.youtube.com/watch?v=62E0kaw7CgY
GunsOnPegs www.youtube.com/watch?v=xKvhYkkbnVo
WilliamPowell1802 www.youtube.com/watch?v=SRTfWZRCQsU
AYATV1 www.youtube.com/watch?v=PTD9AMtOnxU
▶ Shares 
To find out how to join the Fieldsports Nation, visit FieldsportsChannel.tv/shares or to sign up and pledge, go to fieldsports.envestry.com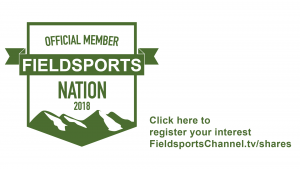 We're proud to promote enjoyment of fieldsports and the countryside. There are three guiding principles to everything we do on Fieldsports Channel:
▶ Shoot responsibly
▶ Respect the quarry
▶ Ensure a humane, clean and quick kill
Take part in nature. Join the Fieldsports Nation Fcha.nl
Risk warning: investments of this nature carry risks to your capital as well as potential rewards. Approved as a financial promotion by Envestors Limited. Which is authorised and regulated by the Financial Conduct Authority (No. 07236828.)
Sign up for our weekly email newsletter FieldsportsChannel.tv/register