How can you resist? World champion clay shot George Digweed has a big night fox shooting. The pheasants are out of the pens and vulnerable to attack by these crafty predators. George is craftier – and he gets 10 foxes in his sights at ranges of up to 250 yards.
Meanwhile, it's Roy Lupton's last chance to bag a fallow buck before the rut comes and the animals start to get stinky. He is out in the South of England looking for a good pricket for the freezer – and he wants to see if the big old buck he let go last year is still in residence.
What a programme! We've got Hunting YouTube where they are shooting wild boar from helicopters in Texas, News Stump where they are hitting them over the head with kitchen sinks in Russia, and a more civilised 'Hallo Charlie!' with rabbits in Australia, crows in England and a sika stag in Ireland.
Here are the links for Hunting YouTube:
FowlTalkers www.youtube.com/watch?v=CjFm-mW_zgg
SonOfScotland67 www.youtube.com/watch?v=rx-M3906IK8
Dreispross www.youtube.com/watch?v=6iR5NRSPEEk
BearLeftTV www.youtube.com/watch?v=u4mUzwoE3y4
KanalGratisDotSE www.youtube.com/watch?v=dDOQAYpE8h0
HuntingFPS www.youtube.com/watch?v=yFVygSsTOHc
Darvil McBride www.youtube.com/watch?v=VCtW39UxpH4
Dustin Ellermann www.youtube.com/watch?v=sx66ys4JG5o
▶ Shares 
To find out how to join the Fieldsports Nation, visit FieldsportsChannel.tv/shares or to sign up and pledge, go to fieldsports.envestry.com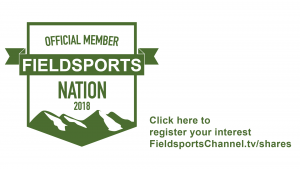 We're proud to promote enjoyment of fieldsports and the countryside. There are three guiding principles to everything we do on Fieldsports Channel:
▶ Shoot responsibly
▶ Respect the quarry
▶ Ensure a humane, clean and quick kill
Take part in nature. Join the Fieldsports Nation Fcha.nl
Risk warning: investments of this nature carry risks to your capital as well as potential rewards. Approved as a financial promotion by Envestors Limited. Which is authorised and regulated by the Financial Conduct Authority (No. 07236828.)
Sign up for our weekly email newsletter FieldsportsChannel.tv/register