It's the last shoot day of the season (everyone say 'Aaaaaaaah!'). The legend that is Andy 'Crowman' Crow is out on the Beaters' Day and he is shooting like a god. Plus his highly competitive son, Baby Crow, is there to remind him he is mortal.
That's not all. Charlie is off to see one Texan's collection of bling shotguns – the Brownsville Brownings of rancher, developer and oilman Mr Fausto Yturria. Prepare to be dazzled.
Plus we have 'Hallo Charlie!', there's News Stump with extra frozen foxes, and Hunting YouTube is seeking out the best hunting and shooting sports on web video.
Nothing else on telly? Pour yourself a glass, settle down and enjoy the Antidote to BBC Countryfile.
Here are the links for Hunting YouTube:
Josh James Kiwi Bushman www.youtube.com/watch?v=PswQKEc22po
Halali MagazinTV www.youtube.com/watch?v=RnGubnMyGfo
JagdBueroKahle www.youtube.com/watch?v=pVAtDb201wU
Ongaro Outdoors is Hired2Hunt www.youtube.com/watch?v=cER4yRhxrkI
TheWildNorth www.youtube.com/watch?v=xuGNBJZcgEc
ElCotoDeCaza www.youtube.com/watch?v=BBr5q-HKTXY
Venantium Sporting www.youtube.com/watch?v=SLntRnG8DbI
TheRattingChap www.youtube.com/watch?v=gUIHciXRGUs
▶ Shares 
To find out how to join the Fieldsports Nation, visit FieldsportsChannel.tv/shares or to sign up and pledge, go to fieldsports.envestry.com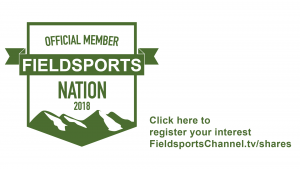 We're proud to promote enjoyment of fieldsports and the countryside. There are three guiding principles to everything we do on Fieldsports Channel:
▶ Shoot responsibly
▶ Respect the quarry
▶ Ensure a humane, clean and quick kill
Take part in nature. Join the Fieldsports Nation Fcha.nl
Risk warning: investments of this nature carry risks to your capital as well as potential rewards. Approved as a financial promotion by Envestors Limited. Which is authorised and regulated by the Financial Conduct Authority (No. 07236828.)
Sign up for our weekly email newsletter FieldsportsChannel.tv/register