The best shots in the world are together for one of the biggest shooting competitions. The World English Sporting 2014 at West Wycombe Estate in Buckinghamshire sees hundreds of competitors shoot thousands of clays. We go behind the scenes to see how they run the event, and we talk to the men who really do shoot like gods.
That's not all. The South Somerset Ferreters are back in action, this time hunting with a lamp not a polecat. They are out after rabbits with a cheap .22, and they are testing a new box of bullets: Winchester's Varmint-X foxing cartridges.
There is Hunting YouTube, News Stump and 'Hallo Charlie!'. Sit back, pour yourself a glass and enjoy Fieldsports Britain.
Here are the individual links:
▶ World English Sporting
Here are the links for Hunting YouTube:
Miami Herald www.youtube.com/watch?v=L5L0MkyvUhk
SRSPower www.youtube.com/watch?v=DVlpUdcjMeA
Max Hunt www.youtube.com/watch?v=aRai6SqqOKY
Hunting Stories www.youtube.com/watch?v=pbClXVAE070
Charles-Henri Dorris www.youtube.com/watch?v=YKacfSofnvU
TX Bucksnort www.youtube.com/watch?v=CoA_ZYrirlY
Fowled Reality www.youtube.com/watch?v=YvJG-UC8aNI
EnglishSportingClays www.youtube.com/watch?v=kPHBhZDzxeo
▶ Shares 
To find out how to join the Fieldsports Nation, visit FieldsportsChannel.tv/shares or to sign up and pledge, go to fieldsports.envestry.com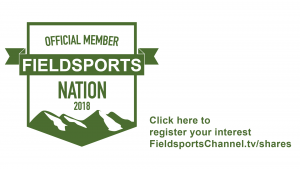 We're proud to promote enjoyment of fieldsports and the countryside. There are three guiding principles to everything we do on Fieldsports Channel:
▶ Shoot responsibly
▶ Respect the quarry
▶ Ensure a humane, clean and quick kill
Take part in nature. Join the Fieldsports Nation Fcha.nl
Risk warning: investments of this nature carry risks to your capital as well as potential rewards. Approved as a financial promotion by Envestors Limited. Which is authorised and regulated by the Financial Conduct Authority (No. 07236828.)
Sign up for our weekly email newsletter FieldsportsChannel.tv/register