How to train an eagle to go faster – and how to shoot fast-flying ducks. That's what you will learn from this week's Fieldsports Britain.
Roy Lupton is getting a martial eagle, a golden eagle and a 'perlin' ready for a British Falconers Club meet. He is training them to hit lures hard.
Sporting Shooter editor Dom Holtam and Andy Crow are on the mallard on a pond, and avoiding the mandarin ducks which are heading for pest proportions.
The News Stump features footballer Paul Gascoigne and Hunting YouTube is all about deer this week.
Here are the individual items:
▶ Martial eagle training
www.youtube.com/watch?v=nq1z7VBvu14&index=3&list=PL3KxM9c3T7K-lLHaPhUS4WKimE4IbTGzk
▶ News Stump
www.youtube.com/watch?v=B3W_LiOkQ3Y&index=5&list=PL3KxM9c3T7K-lLHaPhUS4WKimE4IbTGzk
▶ Crow on duck
www.youtube.com/watch?v=lcEkfWCVj64&list=PL3KxM9c3T7K-lLHaPhUS4WKimE4IbTGzk&index=7
▶ Check your rifle barrel
www.youtube.com/watch?v=AXAmYQduL-U&index=6&list=PL3KxM9c3T7K-lLHaPhUS4WKimE4IbTGzk
▶ Club Digweed
www.youtube.com/watch?v=jeN6j1KSp-I&index=4&list=PL3KxM9c3T7K-lLHaPhUS4WKimE4IbTGzk
▶ Hunting YouTube
www.youtube.com/watch?v=rLhs0LNFugc&index=1&list=PL3KxM9c3T7K-lLHaPhUS4WKimE4IbTGzk
Here are the links for Hunting YouTube:
Daniel M Hess www.youtube.com/watch?v=BwgqdX36nGg
WaffenlandTV www.youtube.com/watch?v=3RKpZliOLIs
Aussie Bush Harvest www.youtube.com/watch?v=vV2bJDPAusk
Chasse TV www.youtube.com/watch?v=-2KUO_6YLPI
CarlesCastilloHD www.youtube.com/watch?v=X-BR3rKiM5E
Univers Chasse Peche www.youtube.com/watch?v=ZWBcyE_pCTY
Boarli www.youtube.com/watch?v=itbCvIW2tn8
Ulrik Orskov www.youtube.com/watch?v=rQ4k4RkuR3A
▶ Shares 
To find out how to join the Fieldsports Nation, visit FieldsportsChannel.tv/shares or to sign up and pledge, go to fieldsports.envestry.com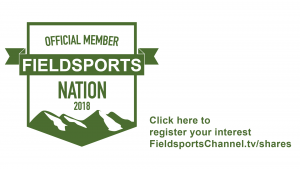 We're proud to promote enjoyment of fieldsports and the countryside. There are three guiding principles to everything we do on Fieldsports Channel:
▶ Shoot responsibly
▶ Respect the quarry
▶ Ensure a humane, clean and quick kill
Take part in nature. Join the Fieldsports Nation Fcha.nl
Risk warning: investments of this nature carry risks to your capital as well as potential rewards. Approved as a financial promotion by Envestors Limited. Which is authorised and regulated by the Financial Conduct Authority (No. 07236828.)
Sign up for our weekly email newsletter FieldsportsChannel.tv/register