Tim Pilbeam is on a technically perfect boar hunt. He has been trained on boar by Swedish experts Mamima Jakt. They've put him in front of simulated charging boar, he's shot bouncing clays with his Sauer 303 to simulate driven game and now they've put him in a high seat to shoot one for the pot. That's not all. Wildfowlers are testing goose decoys and offering cheap barrel cleaning tips in 'Wildfowling: The Dirty Secrets', Edward King is unlocking more mysteries of the British game shoot – this week food and drink – and there is News Stump, 'Hallo Charlie!' and Hunting YouTube. It's all in this week's #FieldsportsBritain.
Here are the links to the items:
▶ Tim on Boar
For Sauer rifles, go to www.sauer.de
For Harkila clothing, go to www.harkila.com
For more about Mamima Jakt, go to www.mamimajakt.se
▶ Goose decoys
For more about Langstone Wildfowlers visit www.ladwaca.com
For decoys go to www.ukshootwarehouse.co.uk
Clothes by Seeland www.seeland.com
Cartridges by Eley Hawk
For Benelli, go to www.gmk.co.uk
For calls, go to www.mpkcustomcallsandwoodwork.com
▶ Shoot Curious?
Gamebore cartridges www.gamebore.com
AYA guns www.a-s-i.co.uk
▶ Here are the links from News:
Training dogs on poachers www.youtube.com/watch?v=FOKrEg0EacE
The new-look Browning hunting blog bit.ly/browningblog
Freeing a deer in Georgia (video) bit.ly/georgiadeer
Dog fitness training method www.youtube.com/watch?v=0JCD_LhrPzQ
Here are the #YouTube links to the films in Hunting YouTube:
TweedsandPheasants www.youtube.com/watch?v=h95x55QPr24
Mojo TV www.youtube.com/watch?v=IlG3w3yfxoo
Freelance Duck Hunting www.youtube.com/watch?v=ZiCH_xUKoLc
Pointofimpact TV www.youtube.com/watch?v=8ap7lnNHiVE
Whackstar Hunters www.youtube.com/watch?v=Xw4U8WH1JK8
Full Boar Outdoors NZ www.youtube.com/watch?v=gVuEYEGX1tk
Browning Channel UK www.youtube.com/watch?v=UQ_ShfcoaxA
AlteTVSpots www.youtube.com/watch?v=v9UM3MIjvSI
▶ Shares 
To find out how to join the Fieldsports Nation, visit FieldsportsChannel.tv/shares or to sign up and pledge, go to fieldsports.envestry.com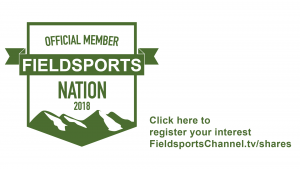 We're proud to promote enjoyment of fieldsports and the countryside. There are three guiding principles to everything we do on Fieldsports Channel:
▶ Shoot responsibly
▶ Respect the quarry
▶ Ensure a humane, clean and quick kill
Take part in nature. Join the Fieldsports Nation Fcha.nl
Risk warning: investments of this nature carry risks to your capital as well as potential rewards. Approved as a financial promotion by Envestors Limited. Which is authorised and regulated by the Financial Conduct Authority (No. 07236828.)
Sign up for our weekly email newsletter FieldsportsChannel.tv/register