They're two of the finest spring-powered air rifles ever made – but which is the best, the Air Arms TX200 or the Weihrauch HW97?
James Head of Crackshot UK, the Devon and online airgun centre, is in no doubt. "There's pros and cons for both and in the end it comes down to personal choice, but for me I'd have a TX200."
Why? "I know the trigger isn't supposed to be as good on the TX200, but this one is nice and crisp. The HW97 was nice to shoot too, and the cocking was short and smooth."
"I felt the 97's shot cycle was just slightly harsher than the TX. The TX was a little bit more comfy to shoot as well. For me the fit of a gun has to be absolutely perfect. If I'm comfortable then I'm going to be shooting a lot more accurately."
And the price? " The Air Arms is quite a bit more expensive," says James. "This one comes in at £630 with the beech stock, whereas the HW97 in the carbine with thumbhole stock is £550."
"I think, for me, the extra cost of the TX is justified just by the way it shoots."
Find out more about the range of airguns available, and a range where you can shoot them, at Crackshot UK.
More on airguns from Fieldsports Channel and Fieldtester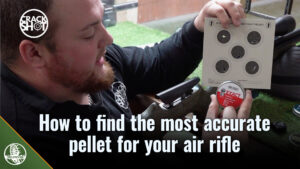 youtu.be/bfEA-6_QZGU To get the best out of your air rifle, you need to find the pellet that works best in your gun. Some air rifles
Read More »