A big heavy rifle is fine for the range, but what if you're walking the hills all day and still need to take a precise long shot when the opportunity presents itself? That's where the Christensen Arms Ridgeline FFT really shines. It's a lightweight, precision bolt-action rifle, available in a wide range of calibres from .22-250 to .338 Lapua Magnum.
The secret lies in the carbon fibre stock, made with Christensen's Flash Forged Technology (FFT), explains Ryan Charlton of distributors Highland Outdoors. "The FFT process really dampens vibration, which means you can see your first shot land and take a faster follow-up shot if you need it," he says. "There's a carbon fibre bolt knob and hinged floor-plate. The barrel is carbon fibre as well, which gives it a larger profile than the equivalent steel barrel, making it stiffer and lighter."
He continues: "The trigger is the Trigger Tech Field Trigger, which gives the brilliant feel of their Match triggers without it being so light it catches you out when you've got cold, wet, gloved hands."
Other features include a large ejection port, M16 style plunger ejector, two-lug bolt and Remington 700 style scope mounting rail.
The rifle weighs approximately 5.5 lbs, and costs £3,549.99. It is distributed by Highland Outdoors.
For more information see ChristensenArms.com
More rifles reviewed on Fieldsports Channel's Fieldtester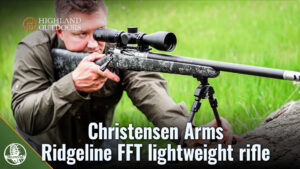 A big heavy rifle is fine for the range, but what if you're walking the hills all day and still need to take a precise
Read More »