What should you look for when buying a rangefinder? Robbie Shedden from gunshop Cluny Country has sold thousands of them. He explains how people choose between rangefinders currently for sale from Zeiss, Swarovski, Leica and Kahles.
For a selection of rangefinding binoculars go to Cluny Country.
Rangefinders reviewed by our experts
Tim Pilbeam tests the Swarovski EL Range TA
Tim Pilbeam reviews the Swarovski EL Range TA rangefinding binoculars with Tracking Assistant. They're the world's most technically advanced binoculars, with integrated bluetooth and GPS to connect with your phone and allow you to precisely track where you last saw that deer.
Owen Beardsmore tests the Leupold RX-1600i
As a professional deer manager and stalking guide, Owen Beardsmore demands the best kit. He's been trying out the Leupold range of optics, and is particularly impressed with the RX-1600i rangefinder. "I wasn't used to using a rangefinder, but this is a lovely bit of kit," he says. "It's lightweight, ergonomic, waterproof and rugged – and it does its job. You just bring it to your eye, press the button and it gives you the range, simple as that."
Jason Doyle's opinion on the Leupold RX-1600i
These days Jason Doyle uses a European brand of binoculars with a built-in rangefinder, so it felt like going back to basics when he tested these separate Leupold binoculars and rangefinder – but he was pleasantly surprised.
"The BX-5 Santiam HD binoculars have superb optical quality," he says. "They'd compare with European binos costing twice the price. They're quite small and lightweight, and I had no issue with them even in half light. I didn't feel like I was missing my more expensive binoculars at all. I normally prefer 8x power rather than 10x, but these were fine."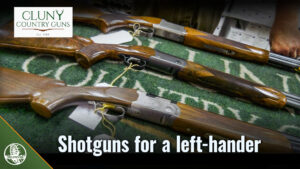 You are left-handed, so you need a left-handed gun, right? Not necessarily, says Robin Shedden of Cluny Country Guns. Several of the big shotgun manufacturers
Read More »