Who has the biggest TV audience for hunting and shooting? Which gunmaker has the biggest following on YouTube? Which ammunition and optics companies have the biggest digital audiences? And who are the biggest hunting/shooting YouTubers? The answers may surprise you. All are revealed in a new report, Gun and Hunting TV Channels and the Shooting Sports Industry 2018. Compiled by Fieldsports Channel, the report is based on figures from three broadcast and digital analysts: comScore, Tubular Labs and Socialblade. All of them approve its findings.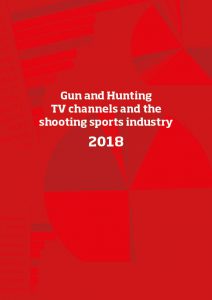 Read it on Scribd here: Bit.ly/huntingtv2018
Download it here (8Mb)
Fieldsports Channel is the number one European hunting channel, about twice as big as the next biggest in Europe and four times bigger than the next biggest from the UK. The report names the biggest airgun channels, the biggest bushcraft/survivalist/prepper channels, and it also looks at how the cable/satellite TV networks and the hunting magazines are making the transition to digital TV.
"What's amazing about this report is the size of the audience channels can get on YouTube," says Fieldsports Channel presenter Charlie Jacoby. "The top 20 gun channels in the world have been watched more than 3 billion times, and will get close to another billion views in 2018.
"We are delighted to be named number one European hunting channel. It comes partly from a combination of superb characters, great camerawork and strong support from our sponsors. It also comes from a viewership that enjoys and believes in the best hunting and shooting sports."