Watch eagle acrobatics as they hunt mountain hares in Scotland. The Angus Glens are a winter wonderland and Roy Lupton is there to catch hares for the pot with his golden eagle, plus there's always a chance of a rabbit with the goshawk. Plus Charlie Jacoby is in Devon and Cornwall after snipe, woodcock and golden plover. News, Hunting YouTube and 'Hallo Charlie!' complete this bumper episode of #FieldsportsBritain.
Here are the links:
▶ Eagles


Roy's clothing kindly supplied by ShooterKing www.shooterking.com
For still pictures from Roy's shoot, visit www.flickr.com/photos/fieldsportschannel/albums/72157680274442756
Here's the link to #Eaglecam 1

▶ Woodcock and snipe


For more about shooting at the Arundell Arms, visit www.arundellarms.com
For the GWCT advice on woodcock shooting, go to www.gwct.org.uk/news/news/2017/december/new-advice-on-woodcock-shooting-from-gwct-expert/
▶ News is sponsored by Percussion www.percussion-europe.com
HM the Queen at the cocker championships. Photography by www.country-trail-images.co.uk/
East Sussex and Romney Marsh hounds star up cats' home
Llechweddygarth has a new owner. Here's our film about the shoot www.youtube.com/watch?v=2vecv9-E16g
JM Venter's films about big game hunting in Tanzania jungle.shopstar.co.za
Wyoming considers banning hunting tech. Here's a film from TrackingPoint www.youtube.com/watch?v=ngm–xw4xak
US YouTube channel holds week of hunting for college students www.youtube.com/watch?v=gL3xSO4wElI
Antis invent 'coywolf' to get coyote hunting banned
For a full news round-up, go to www.fieldsportschannel.tv/category/fieldsportsnews
▶ To join BASC, visit www.basc.org.uk
▶ Here are the films in Hunting YouTube:

Subscribe to our channel
Hirschjagd in Schottland - Hunter Brothers
ANATOLIAN CHAMOIS HUNTING Jens Kjaer Knudsen & FRONTIER Outdoor
NZ Tahr & Trout - With Bluey, Profty and the Athol Boys
Rough shooting Ireland 8th December 2017
Caza de BECADAS sin Ventajas ¡POR FIN!
Goose Hunting in Holland 3
FALCONRY EXPERIENCE SCOTLAND
▶ Shares
To find out how to join the Fieldsports Nation, visit FieldsportsChannel.tv/shares or to sign up and pledge, go to fieldsports.envestry.com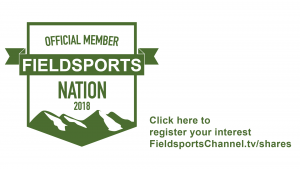 We're proud to promote enjoyment of fieldsports and the countryside. There are three guiding principles to everything we do on Fieldsports Channel:
▶ Shoot responsibly
▶ Respect the quarry
▶ Ensure a humane, clean and quick kill
Take part in nature. Join the Fieldsports Nation Fcha.nl
Risk warning: investments of this nature carry risks to your capital as well as potential rewards. Approved as a financial promotion by Envestors Limited. Which is authorised and regulated by the Financial Conduct Authority (No. 07236828.)
Sign up for our weekly email newsletter FieldsportsChannel.tv/register