Funny foreigner Max Hunt is presenting the programme today. Legend-in-his-own-shooting-jacket Roy Lupton joins him to see how well they shoot and hunt in continental Europe – and can he do any better?
In this week's show, we are tracking and following up an injured roebuck and we are taking part in one of the great field tests of shooting ability, as Roy and Max pit themselves against all-comers to see who will bring home the bacon at the Zeiss Field Shooting Event in Denmark.
And there are our regulars: News Stump, 'Hallo Charlie!', Skinners' gundog training tips and Hunting YouTube. Settle down, pour yourself a glass, lean back and enjoy it.
Here are the links for Hunting YouTube:
JamesMarchington www.youtube.com/watch?v=PIDVEXOZg5U
1willd1 www.youtube.com/watch?v=DmIpOXnDB0M
PresleyGlen youtube.com/watch?v=gvaQ63VvXUg
DomFishingUK www.youtube.com/watch?v=jiZrdlvHbf0
FishOn Vienna www.youtube.com/watch?v=brLSbKPzucE
BowHunterLodge www.youtube.com/watch?v=OfHPT9kT2i0
HuntChannelTV www.youtube.com/watch?v=2lfKz1li_sw
WorldHuntingGroup www.youtube.com/watch?v=jAd2pCXDgh4
▶ Shares 
To find out how to join the Fieldsports Nation, visit FieldsportsChannel.tv/shares or to sign up and pledge, go to fieldsports.envestry.com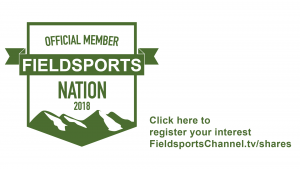 We're proud to promote enjoyment of fieldsports and the countryside. There are three guiding principles to everything we do on Fieldsports Channel:
▶ Shoot responsibly
▶ Respect the quarry
▶ Ensure a humane, clean and quick kill
Take part in nature. Join the Fieldsports Nation Fcha.nl
Risk warning: investments of this nature carry risks to your capital as well as potential rewards. Approved as a financial promotion by Envestors Limited. Which is authorised and regulated by the Financial Conduct Authority (No. 07236828.)
Sign up for our weekly email newsletter FieldsportsChannel.tv/register