It's high-speed lurchers after rabbits and George Digweed hunting down foxes in this week's Fieldsports Britain – and both of them with the lamp.
George's shoot has been suffering from poachers and, consequently, the remaining foxes (he has had more than 100 this summer already) are long distance shots. Happily, that's no problem for the champion shot.
Not far away in the South-East of England, Sporting Rifle writer Tim Pilbeam asks a couple of lurcher boys on to his land with lamps after rabbits. He is keen to show off the best of British sport to a Dane who is writing a book about it.
There is Hunting YouTube, Kit Special, 'Hallo Charlie!' and News leads on the little-known problem of cats eating dogs. Keep it Fieldsports Britain.
Here are the links to the items:
▶ Digweed on foxes
www.youtube.com/watch?v=Ya0BPfsxYVM&list=PL3KxM9c3T7K_jSQfv2weZBGpfP0idzauv&index=2
▶ News Stump
www.youtube.com/watch?v=Dh7jYN4_tDQ&list=PL3KxM9c3T7K_jSQfv2weZBGpfP0idzauv&index=3
▶ 'Hallo Charlie!'
www.youtube.com/watch?v=i4710F_l4dw&list=PL3KxM9c3T7K_jSQfv2weZBGpfP0idzauv&index=4
▶ Kit Special
www.youtube.com/watch?v=k_hJpN1gJeU&list=PL3KxM9c3T7K_jSQfv2weZBGpfP0idzauv&index=5
▶ Lurcher Boys
www.youtube.com/watch?v=3iJLd5L_kS0&list=PL3KxM9c3T7K_jSQfv2weZBGpfP0idzauv&index=6
▶ Hunting YouTube
www.youtube.com/watch?v=Pa5qHsDmXWE&list=PL3KxM9c3T7K_jSQfv2weZBGpfP0idzauv&index=7
Here are the links for Hunting YouTube:
AndysFishing www.youtube.com/watch?v=LxxxoGz2B2k
Nordisk Villmark Hunting www.youtube.com/watch?v=mMDKSAuvN3U
vinniefootball73 www.youtube.com/watch?v=TSvrAFNQVz4
Team Wild TV www.youtube.com/watch?v=5B31VKxpU-Q
BumblefootFilms www.youtube.com/watch?v=rZ8Ronrvz7M
Silencerco www.youtube.com/watch?v=Lij6AEEF2oc
Weekend Woodsmen www.youtube.com/watch?v=pMc3ZK3Lt7Y
ForTheGrizzly www.youtube.com/watch?v=pdM9YOYrcbs
▶ Shares 
To find out how to join the Fieldsports Nation, visit FieldsportsChannel.tv/shares or to sign up and pledge, go to fieldsports.envestry.com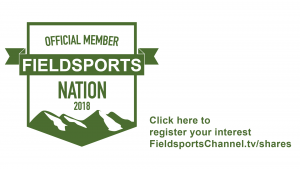 We're proud to promote enjoyment of fieldsports and the countryside. There are three guiding principles to everything we do on Fieldsports Channel:
▶ Shoot responsibly
▶ Respect the quarry
▶ Ensure a humane, clean and quick kill
Take part in nature. Join the Fieldsports Nation Fcha.nl
Risk warning: investments of this nature carry risks to your capital as well as potential rewards. Approved as a financial promotion by Envestors Limited. Which is authorised and regulated by the Financial Conduct Authority (No. 07236828.)
Sign up for our weekly email newsletter FieldsportsChannel.tv/register