Meet Owen. He's a young red stag who thinks he is a beater. Raised by the shoot, he joins the beating line at the Mornacott Shoot in Devon and then pops down to meet the guns for a drink. Apart from a moment during the rut when he decided to mount one of the guns, he is a welcome addition to the shoot team. He even seems to enjoy being chased by the local staghounds. We are at the Mornacott shoot enjoying a lovely high Devon driven pheasant day – and we are hoping Owen will join us.
That's not all. Andy Crow is shooting pigeons on rape with Sporting Shooter editor Dom Holtam + Baby Crow thinks he has won £250,000. Oh dear.
There is news with a dancing foxshooter and Hunting YouTube brings highlights from the Shot Show in Las Vegas.
Here are the links to the items:
▶ Mornacott Shoot
www.youtube.com/watch?v=XGFTPojLgSk&list=PL3KxM9c3T7K_fk05k7qfpzkLL-AvNcJFs&index=2
▶ News stump
www.youtube.com/watch?v=J-9wgpgFUBM&list=PL3KxM9c3T7K_fk05k7qfpzkLL-AvNcJFs&index=3
▶ CrowHow
www.youtube.com/watch?v=5C3BfpGcGY4&list=PL3KxM9c3T7K_fk05k7qfpzkLL-AvNcJFs&index=4
▶ Hunting YouTube
www.youtube.com/watch?v=msFeGEft86A&list=PL3KxM9c3T7K_fk05k7qfpzkLL-AvNcJFs&index=5
Here are the links to hunting YouTube:
Kentucky Gun Co www.youtube.com/watch?v=ZVqXTm2OP6U
Ontario Out Of Doors www.youtube.com/watch?v=W_T5uV_qLj4
Winchester www.youtube.com/watch?v=uonAZWPv7xw
The Late Boy Scout www.youtube.com/watch?v=adjlOJee9kc
NRApubs www.youtube.com/watch?v=6XnlwJG1AiI
Ontario Out Of Doors www.youtube.com/watch?v=vlBgqYnL260
Field & Stream www.youtube.com/watch?v=JWzG3TdmloQ
Gunblastdotcom www.youtube.com/watch?v=REDCghSH4r8
▶ Shares 
To find out how to join the Fieldsports Nation, visit FieldsportsChannel.tv/shares or to sign up and pledge, go to fieldsports.envestry.com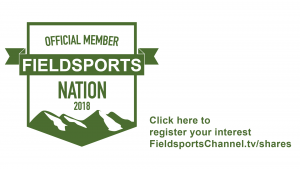 We're proud to promote enjoyment of fieldsports and the countryside. There are three guiding principles to everything we do on Fieldsports Channel:
▶ Shoot responsibly
▶ Respect the quarry
▶ Ensure a humane, clean and quick kill
Take part in nature. Join the Fieldsports Nation Fcha.nl
Risk warning: investments of this nature carry risks to your capital as well as potential rewards. Approved as a financial promotion by Envestors Limited. Which is authorised and regulated by the Financial Conduct Authority (No. 07236828.)
Sign up for our weekly email newsletter FieldsportsChannel.tv/register