We are in search of Britain's biggest cock pheasants. Andy Crow reckons he is in with a chance with a four-pounder (1.84kg) he shot on a shoot in Kent. The average fully-grow cock pheasant weighs 3lb.
More pheasants in Bedfordshire, where Paul Childerley is holding a walked-up day. One gun reveals that pheasant shooting is the new zumba.
We have News, with the video of the hunt saboteur knocking a foxhunter unconscious plus our #globalhuntingsurvey prize draw, Hunting YouTube with wild boar and HM The Queen, and 'Hallo Charlie!' with a lad with a new airgun. Pour yourself a drink, sit back and enjoy Fieldsports Britain, out every Wednesday from 7pm UK time.
Here are the links to the items:
▶ Crow's fat pheasants
www.youtube.com/watch?v=z7BWfgGup88&list=PL3KxM9c3T7K-vabkqaUn9stqem1-3xuRL&index=2
▶ News Stump
www.youtube.com/watch?v=g2iwoiFJOPs&list=PL3KxM9c3T7K-vabkqaUn9stqem1-3xuRL&index=3
▶ Walked-up birds
www.youtube.com/watch?v=L02BoTdMkJQ&list=PL3KxM9c3T7K-vabkqaUn9stqem1-3xuRL&index=4
▶ Hunting YouTube
www.youtube.com/watch?v=fZs5-_eiu-4&list=PL3KxM9c3T7K-vabkqaUn9stqem1-3xuRL&index=5
Here are the links to Hunting YouTube:
Hunting YouTube
Chasse Passion www.youtube.com/watch?v=WNPDzWTKh0k
Simdantra Outdoors www.youtube.com/watch?v=0n34aCRFsKw
FowlTalkers www.youtube.com/watch?v=kuPahAJDLsI
Hunting Film Tour www.youtube.com/watch?v=N-ugiR2w3bg
SakoLtd www.youtube.com/watch?v=gaev59eo634
Keith Warren www.youtube.com/watch?v=bjDknu4Q654
Coopers Hill www.youtube.com/watch?v=YN9FWe2tsj0
Paul French Video International www.youtube.com/watch?v=8pTTKDy2Qko
▶ Shares 
To find out how to join the Fieldsports Nation, visit FieldsportsChannel.tv/shares or to sign up and pledge, go to fieldsports.envestry.com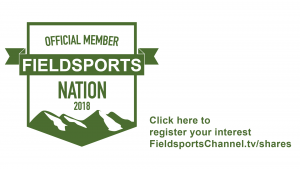 We're proud to promote enjoyment of fieldsports and the countryside. There are three guiding principles to everything we do on Fieldsports Channel:
▶ Shoot responsibly
▶ Respect the quarry
▶ Ensure a humane, clean and quick kill
Take part in nature. Join the Fieldsports Nation Fcha.nl
Risk warning: investments of this nature carry risks to your capital as well as potential rewards. Approved as a financial promotion by Envestors Limited. Which is authorised and regulated by the Financial Conduct Authority (No. 07236828.)
Sign up for our weekly email newsletter FieldsportsChannel.tv/register