Roy Lupton and Darren Rogers are out after foxes with every piece of high-tech kit we can muster: night vision, day vision, thermal, handheld calls, electronic calls, state-of-the-art rifles and cartridges. So how do they get on? Is it a techie triumph or are they all the gear and no idea?
That's not all. We give a day's filming to the World Pheasant Association (aren;t we charitable) and they choose… a pheasant shoot. We are on Lord Shaftesbury's estate in Dorset and we meet the young earl.
There are the results of our survey – go to bit.ly/huntsurvey – which so many of you took part in. Do you know we shoot 290 million birds and animals each year?
There's Hunting YouTube from Australia and South America, Europe and seal hunting in Canada. There's 'Hallo Charlie!' showing what you lot have been up to – deer and foxes. And David on the News Stump is pleased to report that the fox bounty in Australia has restarted, while in the UK, Roy has a lot to beat on the fox calling front.
Fieldsports Britain is out every Wednesday, from 7pm UK time www.youtube.com/show/fieldsportsbritain
Here are the items:
▶ Foxshooting
www.youtube.com/watch?v=xtnWrOk80gw&list=PL3KxM9c3T7K8b_ivfU7h–TyIw7tNreeT&index=2
▶ News Stump
www.youtube.com/watch?v=qa7s4cjiz_c&list=PL3KxM9c3T7K8b_ivfU7h–TyIw7tNreeT&index=3
▶ 'Hallo Charlie!'
www.youtube.com/watch?v=wfEpj3aplTU&list=PL3KxM9c3T7K8b_ivfU7h–TyIw7tNreeT&index=4
▶ Survey results
www.youtube.com/watch?v=ckfth2zQmOo&list=PL3KxM9c3T7K8b_ivfU7h–TyIw7tNreeT&index=5
▶ Lord Shaftesbury's pheasants
www.youtube.com/watch?v=ClK7NU3M-Ns&list=PL3KxM9c3T7K8b_ivfU7h–TyIw7tNreeT&index=6
▶ Hunting YouTube
www.youtube.com/watch?v=neOPBVzDg5M&list=PL3KxM9c3T7K8b_ivfU7h–TyIw7tNreeT&index=7
These are the links for Hunting YouTube
DNA Bowhunter www.youtube.com/watch?v=HUTPXriDKvk
Josh James Kiwi Bushman www.youtube.com/watch?v= hTVPT-8yNZs
Hillbillyweatherman www.youtube.com/watch?v=a59WaqwBd5Y
Solognac www.youtube.com/watch?v=TVrdboZCEDk
William Larkham Jr www.youtube.com/watch?v=bPkWWCdqBw4
DucksUnlimitedInc www.youtube.com/watch?v=PKaE5qKeTGU
Fowled Reality www.youtube.com/watch?v=yDF2SWO66VY
Ramsey Russell www.youtube.com/watch?v=hJi3V_U3H94
▶ Shares 
To find out how to join the Fieldsports Nation, visit FieldsportsChannel.tv/shares or to sign up and pledge, go to fieldsports.envestry.com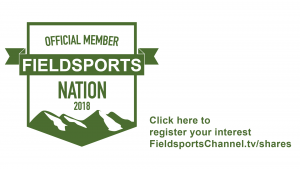 We're proud to promote enjoyment of fieldsports and the countryside. There are three guiding principles to everything we do on Fieldsports Channel:
▶ Shoot responsibly
▶ Respect the quarry
▶ Ensure a humane, clean and quick kill
Take part in nature. Join the Fieldsports Nation Fcha.nl
Risk warning: investments of this nature carry risks to your capital as well as potential rewards. Approved as a financial promotion by Envestors Limited. Which is authorised and regulated by the Financial Conduct Authority (No. 07236828.)
Sign up for our weekly email newsletter FieldsportsChannel.tv/register