It's Europe's biggest gun trade show. the Fieldsports Channel team lands in Nuremberg, spreads out and sees what's interesting.
Sporting Shooter magazine editor Dom Holtam meets a wolf
23-times world champion clay shot George Digweed is wowed by the scale of it all
Franz-Albrecht zu Oettingen-Spielberg explains how he came to shoot seven wild boar in a row.
Called IWA, the show is all about the gun trade and shooting kit. Silicon Valley hooks up with the gun trade for the first time, with thermal scopes. Meanwhile, Browning has brought out a trap gun it says will be at the Rio 2016 Olympics. And the Chinese are at IWA, taking a big interest in shooting sports. They are the next big thing.
That's not all. We have News Stump, Hunting YouTube, 'Hallo Charlie!' and Mike Powell's new series on foxing tips and tricks. Fieldsports Britain – the only TV programme you need (now that Top Gear is off the air).
Here are the links to the items:
▶ IWA 2015
www.youtube.com/watch?v=b25z2XTb0m4&index=2&list=PL3KxM9c3T7K-47FMQ-jXEIxpx84sW8I8p
▶ News Stump
www.youtube.com/watch?v=D4bjqKRvVG0&index=3&list=PL3KxM9c3T7K-47FMQ-jXEIxpx84sW8I8p
▶ 'Hallo Charlie!'
www.youtube.com/watch?v=OX461oiSDJ0&index=4&list=PL3KxM9c3T7K-47FMQ-jXEIxpx84sW8I8p
▶ Mike Powell
www.youtube.com/watch?v=nqEoek-9uGA&index=5&list=PL3KxM9c3T7K-47FMQ-jXEIxpx84sW8I8p
▶ Hunting YouTube
www.youtube.com/watch?v=-FEWyv9Yyqg&index=6&list=PL3KxM9c3T7K-47FMQ-jXEIxpx84sW8I8p
Here are the links to Hunting YouTube:
GeordiehuntersTV www.youtube.com/watch?v=bzZ8rbvIQG4
Solo Hunter www.youtube.com/watch?v=XiAwh_WMgX0
Huntin Grounds www.youtube.com/watch?v=CDn-9FrZ6C4
Hakan Hanioglu www.youtube.com/watch?v=YNK43ULatAs
All4Shooters www.youtube.com/watch?v=qkhMpSS8TAw
Jakt og Friluft AS www.youtube.com/watch?v=JRzytq6PMYI
Beretta Hellas www.youtube.com/watch?v=AvzlJW8cam0
FuwaForestFilmsHD www.youtube.com/watch?v=xyXNXdUPUdg
▶ Shares 
To find out how to join the Fieldsports Nation, visit FieldsportsChannel.tv/shares or to sign up and pledge, go to fieldsports.envestry.com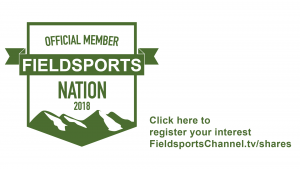 We're proud to promote enjoyment of fieldsports and the countryside. There are three guiding principles to everything we do on Fieldsports Channel:
▶ Shoot responsibly
▶ Respect the quarry
▶ Ensure a humane, clean and quick kill
Take part in nature. Join the Fieldsports Nation Fcha.nl
Risk warning: investments of this nature carry risks to your capital as well as potential rewards. Approved as a financial promotion by Envestors Limited. Which is authorised and regulated by the Financial Conduct Authority (No. 07236828.)
Sign up for our weekly email newsletter FieldsportsChannel.tv/register