Hunters and shooters get the best new technology in their kit – and this week we showcase two of the best of the best: deerstalking clothing which gets rid of the bugs and ticks that carry disease, and a 4WD vehicle quiet enough for you to be deadly on rabbits and foxes.
We find a fabric designed literally to disorientate ticks when they try to attach themselves to it. Clothing made with this material is already having a major effect on the health of deerstalkers.
Meanwhile, Sporting Shooter editor Dom Holtam looks at another quiet revolution. He puts Mitsubishi's new Browning-branded 'hybrid' offroader through its paces: the PHEV.
That's not all. Sporting Rifle foxshooting expert Mike Powell talks through his top six 'desert island' calibres, there's a popstar posing with a pig in News, Hunting YouTube has boar, duck and foxes, and 'Hallo Charlie!' has a big fox shooting result from Australia plus – just in time for April Fool's Day – an American elephant hunt. That's Fieldsports Britain – all you could want, from sublime to ridiculous.
Here are the links to the items:
▶ Lyme Disease
www.youtube.com/watch?v=7ceyQtRAKL0&list=PL3KxM9c3T7K-083v0e2NYqRtJFQhQYeyp&index=2
▶ News Stump
www.youtube.com/watch?v=GzPFH5BbldI&list=PL3KxM9c3T7K-083v0e2NYqRtJFQhQYeyp&index=3
▶ 'Hallo Charlie!'
www.youtube.com/watch?v=hlGz5DohcDw&list=PL3KxM9c3T7K-083v0e2NYqRtJFQhQYeyp&index=4
▶ Mitsubishi PHEV
www.youtube.com/watch?v=Hf-WdseKfHI&list=PL3KxM9c3T7K-083v0e2NYqRtJFQhQYeyp&index=5
▶ Hunting YouTube
www.youtube.com/watch?v=QoDXDejPBxg&list=PL3KxM9c3T7K-083v0e2NYqRtJFQhQYeyp&index=6
▶ Outfoxing
www.youtube.com/watch?v=23ANLEezUIU&list=PL3KxM9c3T7K-083v0e2NYqRtJFQhQYeyp&index=7
Here are the links to Hunting YouTube
SteveLeeILikeGuns www.youtube.com/watch?v=4pbzoK7PmXE
Reivax Films www.youtube.com/watch?v=B3rfOorpPFE
Feliew www.youtube.com/watch?v=MQcR8cPrEcw
Eric Curetti www.youtube.com/watch?v=woL9_4OCmSI
Tok Poortvliet www.youtube.com/watch?v=i1MLGxKhCNU
TheDartman76 www.youtube.com/watch?v=7iWbnppq6Js
Juan de Dios Bonilla www.youtube.com/watch?v=zS-Bc88-SHk
Saturday Night Live www.youtube.com/watch?v=uFJz2IMUeDE
▶ Shares 
To find out how to join the Fieldsports Nation, visit FieldsportsChannel.tv/shares or to sign up and pledge, go to fieldsports.envestry.com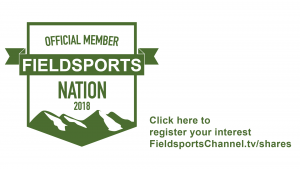 We're proud to promote enjoyment of fieldsports and the countryside. There are three guiding principles to everything we do on Fieldsports Channel:
▶ Shoot responsibly
▶ Respect the quarry
▶ Ensure a humane, clean and quick kill
Take part in nature. Join the Fieldsports Nation Fcha.nl
Risk warning: investments of this nature carry risks to your capital as well as potential rewards. Approved as a financial promotion by Envestors Limited. Which is authorised and regulated by the Financial Conduct Authority (No. 07236828.)
Sign up for our weekly email newsletter FieldsportsChannel.tv/register