It's the ultimate test of thermal and day-night riflescopes. We've brought together the experts, and we've got £38,500 worth of the latest high-tech kit to put through its paces, with scopes ranging from £700 to £4,500. Will the most expensive scopes come out on top? Can the budget models hold their own? There's only one way to find out.
Tim Pilbeam, retired gamekeeper Roy Foster, gunshop owner Mike West and '260Rips' Mark Ripley put the scopes through a thorough test, and give their expert opinion on each.
Here is the kit showcased in this show:
Thomas Jacks/Pulsar
Thermion 2 XP50 Pro – £4,339.95
Helion 2 XP50 Pro – £3,399.95
Merger LRF XP50 – £4,649.95
Krypton 2 FXG50 – £3,999.95 + 56mm PSP Cover Ring Adapter £119.95
InfiRay
TD50L Night Vision – £749
TL50 Thermal Scope, 384×288 sensor, 2,600 metres detection range – £2,499
TH50v2 Thermal Scope, 640×512 sensor, 2,500 metres detection range – £3,999
MATE 50 Front Clip-on – 640×512 sensor, 2,597 metres detection range – £3,994
Thermtec
Cyclops C50D – £2,999.00
Ares 660 Tan – £4,179.00
HIK Micro
Stellar FQ50 Pro – £2,999.99
Falcon SQ50 Pro – £2,449.95
Alpex A50T – £799.99
ATN
ATN Mars LTV, 320x 240 12micron 4-12x thermal rifle scope – £1,599 (Range starts at £999)
ATN X-sight LTV 3-9x day/night rifle scope – £569.00
More on night vision and thermal optics from Fieldsports Channel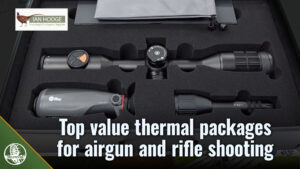 Thermal gear has come a long way, and prices have dropped to the point where it's a realistic choice for many airgunners and fox shooters.
Read More »