A new stock could transform your trusty air rifle, improving accuracy and ease of use and giving it a whole new lease of life, not to mention a stunning modern look. If that's your aim, look no further than this pistol grip style thumbhole FORM Chieftain air rifle stock, available for the Air Arms S410 and S510, BSA R10 and Weihrauch HW100.
"The FORM stocks are made in the UK, all hand finished by the boys down in Exeter," says Richard Ryan of distributors, Raytrade. "They've done some wonderful things with stocks for Marlin and Remington rifles, and now they've turned their attention to airguns. It's a really lovely hand-finished stock.You can feel that every single one has gone through someone's hands, not done by a machine."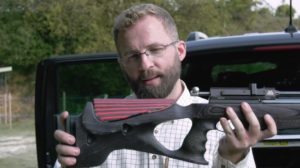 The stock is lightweight and made of black laminate, a material that's notoriously difficult to finish, but the guys at FORM have done a beautiful job, adding a contrasting cheek-piece striped with red, green or blue to make it a real eye-catcher. The laminate hardwood timber used in FORM stocks is from CWP in Finland, which built its reputation dying and manufacturing Scandinavian birch veneers. CWP uses a hot glue press ensuring a solid and stable structure to the laminate. This stock doesn't just look good, though – it's good to shoot as well, helping you achieve better accuracy from your airgun.
It's ambidextrous, so it's suitable for left or right handed shooters. The distinctive thumbhole shape gives a comfortable, solid mount in the shoulder, and it's infinitely adjustable so you can achieve a good fit.
Using the allen-headed bolts in the stock, you can adjust the length of pull and cheek-piece height, which is  useful if you are using a night vision scope on top.
There's a contoured palm swell, and the chequering on the grip and fore-end echoes the shape of the adjusters, and provides a sure grip.
The stock has a built-in Anschutz rail as well as a magnetic adapter to accept the Spartan range of bipods.
Find out more a: FORMRifleStocks.co.uk or talk to distributor Raytrade.co.uk