Gamedealers throughout the UK breathe a sigh of relief as a Wiltshire vet and a Hampshire gamedealer have successfully fought their way through the EU export paperwork and sent wild venison and game birds to European markets. The two stars of the gamedealing world are Rita Alves from Daltons Game Consultancy in Amesbury, Wiltshire, and Stephen Crouch of Hampshire Game, who is also chairman of the National Game Dealers Association
On the UK's exit from the EU on 1 January 2021, game meat exports ceased because of new red tape. Hampshire Game sent an  pallet of game to the Netherlands, but it was refused entry due to 'incomplete paperwork'.
It took Rita, working with agents in the Netherlands and speaking to Dutch government officials, weeks of work to find out how to complete the paperwork. 
On Friday 22 January, Hampshire Game sent ten pallets and  the Dutch government accepted the paperwork.
Stephen says it remains to be seen if other entry points in Begium and France accept the same paperwork, but the EU is meant to be a single bloc with one set of rules. 
The hiatus took place at what would have been the height of the game shooting season. Stephen says he is relieved that the coronavirus epidemic slowed supply during this crucial time.  
The problem centered on the wording on the health certificate paperwork that the EU insists accompanies the product from the Approved Game Meat Handling Establishment (AGHE) through to its final destination in the EU. Initially, the EU would only issue the paperwork for air freight, meaning that any shipment of game that left the UK by road would be turned away at the border of the EU. Almost all of the game shipped to the continent goes via road, so the air freight paperwork was wholly unsuitable.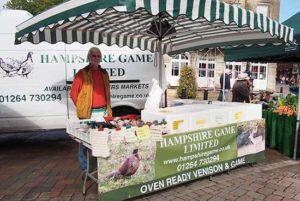 The National Gamekeepers Organisation blog says that, "Shoot owners will now be able to keep the continental market for game that is produced every autumn and winter, and AGHE's will be able to continue to supply their existing markets.
"With covid-19 putting an end to driven shooting, this January has given the AGHE's a bit of breathing space to get to grips with the new paperwork required and, thanks to Rita, this transition has not been as harmful as it could have been had the full shooting programme happened this January."
Stephen Crouch says: "Rita must be congratulated for her success on resolving this issue. The whole sector will benefit and is indebted to Rita for getting to grips with what was required. We want to get our products back to our hard-won markets in the EU. Although we have a growing market here in the UK, our European cousins still consume a great deal of game and the market is an important outlet of all of us."