The German federal government is allowing shooters to break the coronavirus lockdown and carry out wildlife control.
According to German interior minister Horst Seehofer, 'the Federal Government regards exemption of hunters from a general curfew as justified'. A letter to the German Federal Hunting Association, the Deutsche Jagdverband, from civil servant Stephan Mayer sets out the terms under which Germans can now restart hunting:
You can hunt as long as you are protecting crops, forestry and viticulture
You must hunt alone
You have to travel directly to your hunting area and back
German hunters and farmers are expressing their relief online. Some hunters are liable for damage to crops on their hunting areas from wild animals. These costs rise significantly if hunting is banned. "I am so pleased they recognise shooting is essential to agriculture," says one.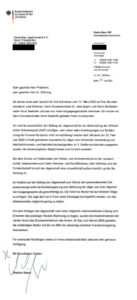 The letter from the government, translated into English, reads:
Dear President, Dr. Böhning,
Thank you very much for your letter of March 17, 2020 to Federal Minister Julia Klöckner, Federal Minister Dr Jens Spahn and Minister Horst Seehofer and the trust you have placed in us. I was asked by Federal Minister Horst Seehofer to answer you.
I would like expressly to appreciate the contribution of the hunters in the fight against African swine fever, which should not be neglected, in addition to efforts to contain the corona pandemic. With an exception that came into effect on 20 February 2020 for hunters from the ban on the use of night vision attachments and night vision attachments in the 3rd Gun Law Amendment Act, the possibilities in this regard have only recently been expanded.
When it comes to protecting winter and summer crops in agriculture from wild animals, especially when growing vegetables and potatoes, viticulture and forestry, hunters are undoubtedly extremely important.
With regard to the contribution of hunters to the protection of systemically important provisions, the Federal Government regards exemption of hunters from a general curfew as justified. The trip to the area must be direct. The hunt may only be carried out in the form of a single hunt in order to keep the risk of infection as low as possible.
In order to take into account the hunters' concern for a possible unbureaucratic solution to reach the respective area, the interior ministries of the countries were asked by the Federal Ministry of the Interior, Construction and Home Affairs (BMI) to contact the competent authorities for the exception that the BMI considered necessary point out.
If you have any questions, I am of course at your disposal at any time.
Yrs&c