Five years ago, Tim Newcombe was working for three farmers and a school, clearing their land of pests. Now he has no licence to shoot.
Things turned sour when Tim was paid a visit by the local firearms officer.
"She was in a bad mood," he says. "She tried to rip the [gun] cabinet off the wall, she didn't even give me 10 minutes of her time. She just complained about some speed humps on a road I told her not to go down. It was later reported to me she was seen going quite quickly, so they caught her out proper."
Tim is a victim of the modern firearms licencing process. Shooters generally approve of the home visits. They generally do not approve of the new enforced medical checks, which cost money, have cost at least one life, and put power in the hands of anyone with a grudge against the applicant.
Tim spent the next year following up the visit trying to find out what was happening with his firearm and shotgun certificate applications. He complains he just kept getting passed on to different departments.
In a bid to speed up the process, Tim sent police a letter from his GP saying he suffered from anxiety but was fit to shoot.
"That just went straight against me, straight away. I had a phone call from the firearms officer. She said 'One of your farmers… he's withdrawn his permission.' I said that was a bit strange and do you know why? And she said 'No, I don't know why.' So no worries, I still have my other two."
Tim drove to the farmer to ask why he'd revoked his permission and was told a different story: "She told me you're mental and do I really want somebody with mental health [problems] running around with a gun in my field?" he says, quoting the farmer.
After their chat in which Tim explained he had anxiety, the farmer reversed his decision, but said he had to shoot with one of his friends.
"There was no reason why she had to tell him – it's against the Data Protection Act."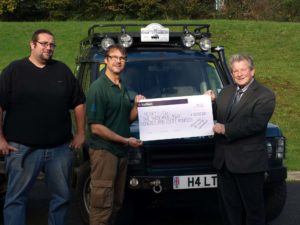 Just before lockdown, Tim got a call from Exeter police firearms office.
"I explained the situation, how I felt, and they were shocked and quite supportive towards me… Actually she (the firearms officer) phoned me back because she'd looked into it and said, 'You should reapply, Mr Newcombe'."
By that time, the officer had moved to another department. Now he's hopeful he can finally get his licence back. But it will be hard to forget the turmoil he's been put through.
"When a firearms officer turns round and says 'No, I think you're a danger to public health and safety', it's like wow, am I really that sort of person? Is that how other people perceive me? When you suffer from anxiety you think, does everybody think that?" he asks.
The situation with gun licences hits gamekeepers the hardest, because they rely on their shotgun and rifle certificates for their primary job. Helen Benson of the Gamekeeper's Welfare Trust tells the story of a gamekeeper who died of preventable prostate cancer because he was too frightened to go to his GP in case they told police to remove his gun licences.
There is a perception among some shooters that depression can mean automatic denial of licence. Jack Knott from BASC's press office says that's not true: "From our point of view, depression does not automatically lead to your licences being revoked, as it has been proven time and time again that shooting is good for your mental health. If you are diagnosed then the best course of action is to work with the police."
All is not lost. The shooting organisations have been fighting medical checks since the Home Office introduced them in 2016, as this story from 2018 shows.
Some GPs refuse to give shooters a medical sign-off for their certificates, because they conscientiously object to gun ownership. Medcert offers medical records checks for firearms and shotgun licence applications for a flat £50 fee. In addition, BASC has a scheme (details here) to find doctors for shooters who need to renew their licences but are having trouble getting a GP to write a letter confirming they're fit to own and shoot a gun.
As usual with gun licensing, there is no will among government officials to address it, so the system lumbers on, leaving shooters unhappy and only doctors richer.
If you have had a bad experience with medical checks, email Ben O'Rourke your story.
---
Barry's story
"I've had my licence taken off me for doing pest control," says Barry Swain, standing on farmland in Leeds where right now, early September 2020, Canada geese are flocking back in their hundreds. "So who's wrong here? The government gave me the licence through the police to do pest control. But the police are stopping me doing pest control that is fully legal and lawful. They've also taken my guns off me because I was doing pest control and refused to stop."
Barry's trouble began last year when animal rights extremists started calling police every time they saw him on the farmer's land, costing him – and taxpayers – tens of thousands of pounds as officers wasted their time and his.
The harassment continued on social media, with some of the antis suggesting violent retribution for Barry because of his small part in protecting the country's food supply. Others took aim at his wallet, writing bad reviews about his plumbing business in their effort to ruin him.
This article in the online Country Squire Magazine shows how antis can get gun licenses removed from hunt staff, who need it as part of their job.
West Yorkshire Police have failed to help Barry – or the farmer, who is desperate for him to get back out in the fields to kill the geese that make a mess of land he uses to graze cattle. Canada geese excrement carries diseases that can kill cows.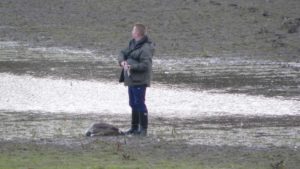 By siding with the animal rights extremists and denying the farmer the right to hire Barry to shoot the geese, the police are damaging a business that puts food on people's tables. It's also costing the farmer extra as he needs to spend money feeding his cows.
The extremists have been touting a 'more humane' solution to the farmer's geese problem – walking a dog around the fields and making loud noises to try to scare the birds away. Maybe some of the geese fly away, but they just come back or move to another part of the farm.
If he weren't wading his way through paperwork answering the police's 575-page complaint against him, Barry would be out in the fields with an air rifle driving away the birds as best he can.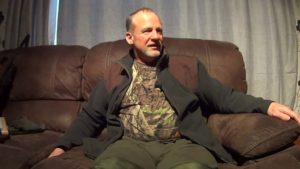 Barry and the farmer are left in an impossible situation. The farmer needs guns on his land and Barry has asked whether anyone in the Fieldsports Channel community has any creative ideas that could solve their problems. Phone numbers of MPs, for example.
Fieldsports News contacted West Yorkshire Police several times asking whether it would be compensating the farmer and what message was it trying to send by slapping a dyslexic man with a 575-page complaint. We also asked whether another pest controller would be treated the same way – threatened, wrongly arrested, have their guns taken away.
So far, none of those questions has been answered. The sergeant in charge of the case has emailed us though, saying he "will not be making a comment" and "please can you refrain from emailing me about this matter".
Barry's case is expected this year. We are following closely and will report the outcome.
Click here for all our stories about Barry