All you need to know about riflescopes
Can you buy a decent riflescope for under a grand in 2022? Absolutely says Dan Bibb of Shooting Sports UK – and he pulls three examples off the shelf to prove his point. Each one offers terrific optical performance and will almost certainly outlive your rifle if not you – and they start at just £499!
His first pick is the Hawke Endurance 30 WA 6-24×50, priced at £499. "The glass quality on this is really nice," Dan says. "Plus it's got a one-piece aluminium tube and exposed turrets. Most new stalkers aren't going to use those, but it's a nice touch." 
Next up is the Zeiss v4 3-12×56, priced at £868. "This is a pure-bred workhorse. You see your deer, you shoot it, no messing. It's got no parallax adjustment, it's fixed at 100 yards. You don't need bells and whistles. The 56mm objective lens is going to suck in massive amounts of light."
Dan's next choice is the Steiner Ranger 4 6-24×56, priced at £880. "This one has a few more features than the Zeiss, but it doesn't compromise on quality. It would be great for foxshooting or deerstalking. Again the 56mm lens will draw in massive amounts of light. It's got an illuminated reticle, and I really like the zoom lever, it's tactile and smooth to operate."
See these and other scopes at Shooting Sports UK in Staffordshire – or track down the scope you want online at Kitfinder.
More on riflescopes from Fieldsports Channel and Fieldtester
The best riflescopes for hunting
Nearly 700 viewers took part in out centrefire riflescopes survey in March 2020 – and you reveal that almost all of the scopes you put on your centrefire rifles come from just 16 companies. The survey also shows that you are prepared to pay for glass. The top three scope manufactures are all at the pricey end of the market, but there are winners at the budget end too.
Watch the video for more, and click here for the full report.
Will a cheap riflescope work?
You can spend a large sum of money on a high end scope, but will it actually put more meat in the freezer? Of course a top end scope may give you a few more minutes' shooting at dawn and dusk, but Dan Pool of Braces of Bristol thinks there's a law of diminishing returns at work. "There are lots of pros and cons and science stuff behind the more expensive optics," he says, "but for me, once you get above a certain level, my eyes don't see the difference."
Watch the video here, or go to our Why pay more? article.
Stretching the budget
If you're willing to spend a bit more on a riflescope, what can you get? The top end scopes go for upwards of £2,000, but before you reach that level there are scopes like this Kahles Helia 3.5-18x50i, at £1,600, reviewed here by Tim Pilbeam. He's impressed with the optical quality, perhaps not surprising as Kahles are owned by Swarovski. The features are good too, and Tim's more than happy using the scope for deer shooting and fox control.
Watch the video here, or go to the full review here.
On test: Leupold VX-6HD 3-18×50
Owen Beardsmore of Cervus UK is a professional deer manager and stalking guide, who demands a lot of his kit. He needs a scope that will work flawlessly in all conditions – and he loves his Leupold VX-6 3-18×50 scope which he's been using for the past year.
"The light gathering power of the scope is absolutely excellent," Owen says. "I use it mainly at first and last light for deer management, so it's got to perform."
The scope is priced at a whisker under £2,000 .
Watch the video for more, or read the full review here
Swarovski Z8i – the best all-rounder? At a price…
If you had to pick one rifle scope for every type of hunting, what would you choose? For Tim Pilbeam, it would have to be the Swarovski 3.5-28×50 P. "This scope does the lot," he says. "It could be the ultimate all-rounder, catering for the European hunter who wants to shoot a pig in the forest at 25 metres, a mouflon at 300-400 metres up in the alps, as well as the deer stalker, the fox shooter… if you enjoy playing on the range, this will quite happily cope with 800 metre shots as well."
The Z8i is priced at £2,700. Read the full review here.
What do you get for top money?
What do you get for your money when you go for a top-end scope at £2,000-plus? Take a look at our at-a-glance guide comparing the top brands Zeiss, Swarovski, Leica and Blaser – click here.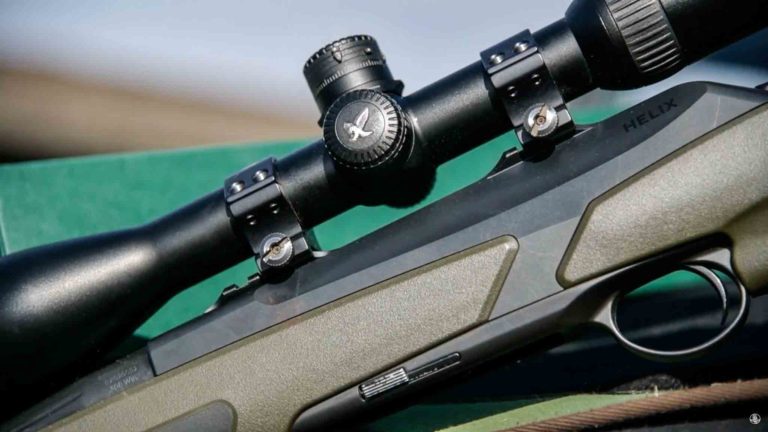 Put your scope in the washing-up – seriously?
It might sound bonkers, but that's exactly how Paul Childerley cleans the scope on this estate rifle after it's had a hard time being used for stalking and vermin control.
Read the full article here.