Five years ago, Julie Wright, a single woman from Slough in Berkshire, had two happy Staffordshire bull terrier crosses, Jack and Homer. Both of them were up to date with their injections, they were chipped and insured. She had been looking after another, Honey aged seven, who had gone back to her owner in 2013, a good home in Ireland. The world of dogfighting had not entered her imagination.
Today, Julie gets to see her one remaining dog 10 times a year. Homer is kept in a small 'cell' at an RSPCA-approved kennel, Doushal Kennels in Essex, two-and-a-half hours from Julie's home. Homer is allowed out just twice a day. The kennel owner claims he has 'an acre' of ground to exercise dogs – but a quick look at the property shows that the exercise area is smaller.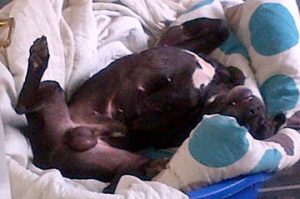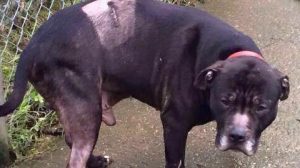 Her other dog, Jack, developed a tumour on his brain while at Doushal. She paid for Jack to go to a specialist at Bristol University, but it was too late to save him. Julie was there when Jack was put to sleep. She says he died of a broken heart.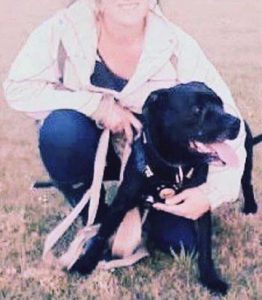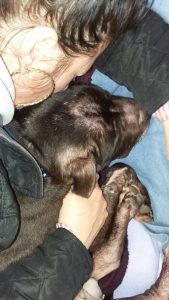 The RSPCA and the police raided Julie in 2014 and took away her beloved dogs. In 2016, she was prosecuted under dogfighting laws, with evidence provided by the RSPCA. Hers is one of only a handful of dogfighting cases the RSPCA has successfully prosecuted in the last three years – and, as the RSPCA admits, she wasn't even dogfighting. Since then, Julie has fought to clear her name, winning one of the charges on appeal.
Like any responsible pet-owner, she deplores dogfighting. "I had no medical equipment, no dog fighting videos, books or magazines," she says. "The RSPCA's own veterinary records state that both my dogs are friendly. All the RSPCA's evidence was circumstantial, and the Crown Court acknowledged that the dogs in my case have never been used for organised dog fighting.
"I feel I was an easy target for the RSPCA because I am a single woman. They are too middle-class to go for the real dogfighting villains. I would be a quick donation puller for them."
As a child, Julie's love of dogs landed her in the local newspaper
She was found guilty after trial at the East Berkshire Magistrates of two charges relating to having equipment for training an animal to fight, and training Honey for use in connection with fighting. She was banned from owning dogs for 10 years, given an 18-week suspended prison sentence and ordered to pay £1,000 costs.
Her crime was to keep a breed of dog associated with dogfighting. At the time of the raid, she had 80 Facebook friends. It emerged after the raid on her house that two of them, whom she had not met, were convicted dogfighters. She says she was convicted 'by association' on the flimsiest evidence.
She says the RSPCA asserted that she had sent Honey for 'testing' for dogfighting in Ireland, though recent pictures of Honey show a happy, healthy dog without a scratch on her.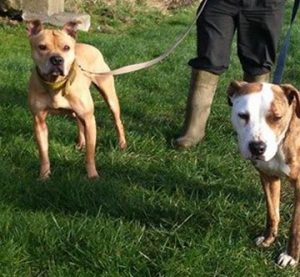 Honey (left) and her kennelmate Bonnie in Ireland
She says the RSPCA referred to her dogs Homer and Jack as illegal pitbull terriers, even though they are not. She says she took her solicitor's advice to admit one offence under the Dangerous Dogs Act relating to owning two pitbull-type dogs, because the act covers all bull breeds, including Staffordshire bull terrier crosses. Homer and Jack are Staffordshires crossed with American bulldog.
Julie says she kept her dogs fit. The RSPCA claimed her training equipment was for fight training. She successfully appealed against the equipment charge.
The RSPCA's record on dogfighting is woeful. Against nearly 8,000 dogfighting reports over the last four years, it achieved 17 convictions for cruelty and neglect contrary to section 8 (dogfighting) of the 1996 Animal Welfare Act in 2018, up two on its record for 2017. It achieved only one conviction in 2018 under the 1991 Dangerous Dogs Act, against two in 2017. RSPCA dog fighting expert and special operations unit chief inspector, Mike Butcher, says: "Our figures show that in the past four years we've received 7,915 reports of dog fighting incidents. While it's promising to see that these figures are dropping, it's still staggering that something – which has been illegal for almost 200 years and which most people consider an ancient pastime consigned to the history books – is still so rife."
Tracking down dogfighters is relatively easy, because many of them post their results on Facebook. Between October 2018 and February 2019, the animal rights organisation Lady Freethinker found 2,000 posts which promoted dogfighting or trafficking animals used for fighting, more than 150 pages, groups and profiles actively involved in the practice, plus 160,563 members in the top five pages and groups. Its report highlights how dog fighting content is easily found on the platform, and how the company has failed to enforce its own policies against the practice.
It is not for want of money. When the RSPCA sets out on a case, it is difficult for ordinary people to fight them, because the RSPCA can call on enormous resources. Against Julie, the RSPCA fielded expert after expert in the courtroom.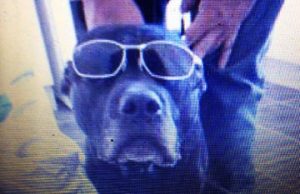 Jack at home
Julie believes part of the problem lies in what she calls the 'fanatical belief set' among RSPCA special operations unit inspectors. The SOU seems to think it is fighting a religious war against what it considers to be animal abuse. A now retired RSPCA inspector, Jan Eachus, told a journalist: "We are the police force for animals. We exist because we're needed, not because we're liked… I am the law and, if people don't like it, well, there's not a damn thing they can do about it."
Eachus later drove his van to a pro-hunting demonstration in London and ran over one of the marchers. He was convicted of dangerous driving. The district judge at Horseferry Road magistrates' court fined him £300, with £300 costs, and put six points on his driving licence, saying he had "used his vehicle to push through pedestrians".
Julie says: "If the RSPCA really wanted to address dogfighting, they would start with hard evidence, direct evidence, not bits and bobs to 'paint a picture'. I'd suggest they stop fearmongering – stop spreading hate about bull breeds. I'd suggest they stop lying."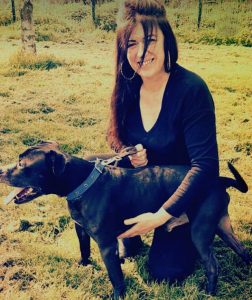 Julie on a visit to see Homer in 2019
Another of Julie's complaints is about the treatment of her dogs by RSPCA-endorsed Doushal Kennels. "My pup [Homer] has no muscle at his back end through lack of exercise," she says. "He has pressure sores from laying on hard floors."
In 2016, The Daily Express reported Julie's story as a fundraiser for the RSPCA.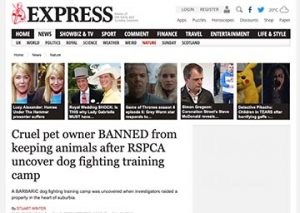 Moneymaker: Daily Express headline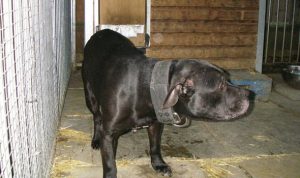 Jack, confused, on the day of the RSPCA raid – the picture used in the Daily Express article
It is also a fundraiser for Doushal Kennels. At the time of the trial, evidence submitted to the court showed that the bill for kennelling her dogs was around £900 per month.
Julie says: "My pup's [Homer's] teeth, while under their care, are brown. They said this is caused by 'poor diet'. I made a complaint and the RSPCA said they would book him in at a vet for dental treatment. I replied angrily: 'He doesn't need a vet – for God's sake – he needs proper food. His diet will keep him in shape.'"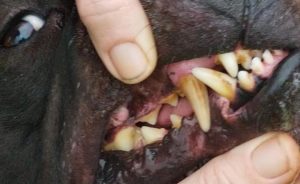 Homer's teeth
Julie continues to fight her case, which is with the Criminal Case Review Commission. "I'm still fighting my innocence five years later," she says. "It's not for me – it's for my dogs."
Watch our film about Julie:

Click here
for the story