James Head of Crackshot UK says there are plenty of good reasons to buy a secondhand pre-charged pneumatic airgun – and a few traps to watch out for.
Let's start with the positives. Number one: it will be cheaper than buying new. That means you can get more for your budget – a better grade gun, or the full kit for what you'd pay for the gun alone if buying new. 
"Suppose you're looking at spending £1,000," James explains. "Buying new, that might just get you the gun. But you could buy something pre-owned and still get all the extras, like a scope, bottle and so on, and stay within your £1,000 budget."
Reason number two: the previous owner has done a lot of the work for you. "You don't have that breaking-in period you get with a new gun," says James. "The previous customer might even have worked out what pellet the gun likes best, so you're off to a flying start."
The third reason: by buying secondhand from a reputable shop, you know that the gun has been checked over, and comes with a warranty. "If the shop has a range, you can try the gun and reassure yourself that the gun is in spot-on condition and working as you'd expect."
And what should you beware of when buying secondhand? The first thing is a careful visual inspection, James says. "Look at the optics and make sure everything is clear. You can tell a lot just by looking at the lenses."
"Generally the first thing that gets knocked and bashed is the silencer," he adds. "The crown is a vital part of the gun, so look for burrs at the muzzle as that could cause accuracy issues. If you're unsure ask someone to take a look at the gun for you."
For more information, and to see the range of guns in stock, visit Crackshot.uk.
More on airguns from Fieldtester and Fieldsports Channel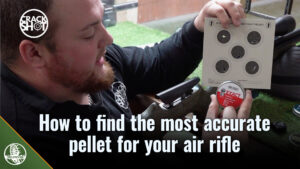 youtu.be/bfEA-6_QZGU To get the best out of your air rifle, you need to find the pellet that works best in your gun. Some air rifles
Read More »