Animal charities like to put up images of young wildlife, then demand money to 'save' them. But what does 'save' actually mean? Ben O'Rourke goes into forensic financials to find out. He talks to Richard Taylor, who knows how to read a balance sheet, and shows the discrepancies between what organisations such as the League Against Cruel Sports promises and what it does.
A red fox cub is walking through a wood, one of its front paws in the air as it steps across a tree root. The cute photo is in a post on the League Against Cruel Sports' Facebook page. The message is clear: unless you give us money, this baby animal may not survive long and, even if it does, it will probably endure a life of hell.
"A small donation could save this fox cub from a future of fear and suffering," the LACS post says. "Help us ensure it lives its life in peace."
In reality, the little fox is thousands of miles away, far from the League's protection – the photo snapped somewhere in the USA.
The not-so-subtle approach to grabbing people's attention – and cash – is nothing new, just an example of a charity twisting the truth to do it. Once they have your money, it's not always spent on the noble cause donors are supporting.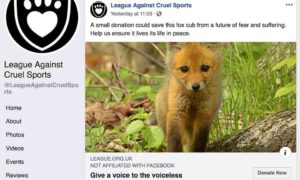 Of the roughly £3 million LACS spent in 2018, according to its annual report, most of it was used for lobbying, investigating possible 'wildlife crimes' and 'education', with only about £274,000 on conservation. Education can mean everything from self-promotion to getting themselves on the news. Besides trying to change policies, LACS's lobbying included trying to influence general elections.
"I think if you look at most campaigning and lobbying activities, they become part of a self-sustaining cycle for raising money," says Richard Taylor, an edtech investor who routinely scrutinises charities as part of his due diligence technique. "The more campaigning you do, the more lobbying you do, the more in the public eye and voice you are – particularly using social media or broadcast media – that brings you in more donations in terms of grants and especially legacies."
Legacies have been promoted recently by another animal group – the Hunt Saboteurs Association. There was outrage when it asked frail or elderly supporters to consider changing their wills and leave money for the sabs, just in case coronavirus kills them. The timing of the post was considered tasteless.

"The cost of raising money from legacies seems to be a lot lower than donations or memberships, so it's much more cost-effective for animal charities," says Taylor, who points out that many charities in general offer free will-writing services in the hope people will leave them their cash.
After looking at the media and online presence of numerous vegan and anti organisations, Taylor says they are extremely advanced, in terms of planning attack campaigns on hunting and shooting. He feels fieldsports groups need to up their game if they're to compete at all.
"They've really taken on board the sort-of insurgency tactics," he says. "These guys have much more sophisticated long-term strategies than any fieldsports organisation. What you would call above the line advertising, whether it's online or on billboards or on telly, is a small part of it. [So] they don't have to worry about regulators, whether it's the Advertising Standards Authority or the Charities Commission. They've calculated exactly what they can and can't do and know that by the time you've complained to the Charities Commission, the campaign is done and dusted."
For LACS, the baby fox stunt worked, with at least one Facebook user commenting how they had set up a monthly contribution. In among the compliments, though, another quipped how the CEO "has to get his £90k a year salary from somewhere".
This film is funded by the Fieldsports Nation