There's enough to carry when you're out stalking or doing vermin control – so anything that can do two jobs at once is a bonus.
That's the idea with the Vorn SR10 hip pack. It's a practical 10-litre waist pack with plenty of space for all your gear. Plus it provides a stable platform where you can rest your elbow for a really steady shooting position. You can even rest your rifle on the flat top surface while you wait for your quarry to appear.
Robbie Shedden from Cluny Country has tested the Vorn SR10, and he's impressed. "I'd be happy shooting off it up to 100 metres," he says. "I tested it and I was surprised with the results. It is absolutely solid."
Robbie reckons it would be ideal for woodland roe stalking, or shooting foxes or rabbits. "Anywhere up to about 100 metres, when you don't want a lot of movement or you might not have much time to take the shot."
He says the main compartment would be ideal for gralloching gear, ammunition, a bit of food, maybe binoculars or a thermal. "You have all your kit with you, and everything is hands free."
The Vorn SR10 is available from Cluny Country, priced at £169.99.
Find out more at Cluny Country.
More shooting accessories reviewed on Fieldtester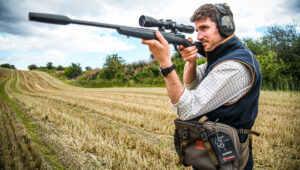 youtu.be/slekeV41hbY There's enough to carry when you're out stalking or doing vermin control – so anything that can do two jobs at once is a
Read More »