This month's episode offers some of the finest big game hunting in South Africa: roan antelope, nyala and buffalo.
Hoyt Bows ambassador Dani Hill is bowhunting roan antelope. Rich Leonard is filming a promo for the Hoyt Carbon RX3 and it turns into one of the more exciting hunts that Rich and Dani have shared.
In the Eastern Cape, Allan Schenk has a Canadian client who wants to shoot a spiral horn slam: a buskhbuck, kudu, eland and nyala. Today, Claudio Ongaro is after a big nyala that Allan Schenk has been chasing for weeks.
This month's episode ends on a dramatic buffalo hunt. Sniper Africa runs a shooting competition for professional hunters. Win it and they take you after a buffalo. Eugene Etsebeth is a PH in the Limpopo valley and he wins it. Sniper Africa takes him out after 'black death' with Clinton van Tonder in the Greater Balepye Nature Reserve, owned by the Balepye people. Learn how to track buffalo and watch as Eugene faces his greatest challenge, a buff in thick bush.
African Hunter – by Africans, for Africans, every month on Fieldsports Channel. See every episode here: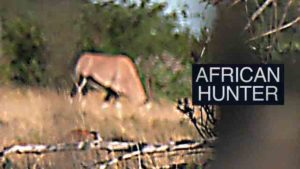 Brought to you by Sniper Clothing SniperAfrica.com
Contacts:
Richard Leonard richard@fieldsportschannel.tv can put you in touch with any of these guys AND film your hunt
Allan Schenk of Allan Schenk Safaris AllanSchenkSafaris.com
Nonya Safaris on Facebook
Dani Hill of African Bowhunting Adventures AfricanBowhuntingAdventures.com
For a Hoyt Carbon REDWRX RX3, visit MagnumArchery.co.za/products/view/redwrx-carbon-rx3
Hoyt Archery Hoyt.com
Claudio Ongaro runs Ongaro's Outdoor outfitters in Canada Ongaros.com
For the Greater Balepye Nature Reserve, go to GreaterBalepyeNatureReserve.co.za
▶ Fieldsports Shop
Visit Fieldsports.shop
▶ Join the Fieldsports Nation and fund our fight for fieldsports in the media
Fcha.nl/fieldsportsnation – for full details
YouTube.com/channel/UCfoEqIFtqfc6xBV185DQnBw/join for YouTube membership
Patreon.com/fieldsportschannel for the same via Patreon
To become a more structural shareholder, visit Fieldsports.Envestry.com
▶ Sign up for our weekly email newsletter Fcha.nl/register
We're proud to promote enjoyment of fieldsports and the countryside. There are three guiding principles to everything we do on Fieldsports Channel:
▶ Shoot responsibly
▶ Respect the quarry
▶ Ensure a humane, clean and quick kill
Take part in nature. Join the Fieldsports Nation Fcha.nl
▶ Why support hunting tourism?
Hunting tourism is part of a system that keeps the rivers, forests and fields intact and maintains the wildlife. Thanks in part to trophy fees, they provide huge sums money for conservation and anti-poaching – much more money that photographic safaris provide. Wildlife is booming in the Southern African hunting countries of South Africa, Namibia and Zimbabwe. They are Africa's wildlife winners. Africa's wildlife losers are the anti-hunting countries, where animals have no monetary value.
Fieldsports Channel proudly supports Safari Club International SafariClub.org
Risk warning: investments of this nature carry risks to your capital as well as potential rewards. Approved as a financial promotion by Envestors Limited. Which is authorised and regulated by the Financial Conduct Authority (No. 07236828.)