It's a lovely afternoon's pigeon shooting. Some birds are close – some are far away. So how does a pigeon shooting expert like Andy Crow choose his chokes? Here is his guide.
Using a decent cartridge on decoys, Andy uses quarter chokes in both barrels. He is shooting long birds with that, out to 50 metres/yards. if he wants to shoot catridhges where he is not shooting such tightly-patterned catridges, he would go up to three-quarters.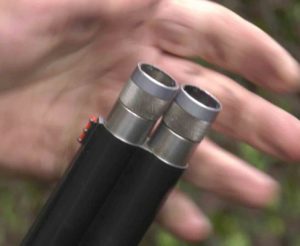 For flighting birds, which are higher, Andy says it is worth putting in half or three-quarter chokes.
Skeet shooters choose 'open' chokes – true cylinder or Skeet. "If you are shooting skeet, you want the biggest pattern possible, because you are shooting something close," says Andy. "You don't want a ball of shot."
When it comes to make of choke, Andy uses Briley, which comes with the Blaser F16. He also recommends Teague chokes. But he says don't throw away the standard chokes that come with your gun. Try them out and see how you get on with them.
In general, it is easy to take chokes too seriously. Andy says don't worry too much about them. "Don't make life hard for yourself," he says – he uses the same choke in both barrels so he doesn't have to think about shots too carefully.
Choke type, in order:
True cylinder – no choke at all – Andy recommends for birds up to 30 yards/metres
Skeet – designed for fast, close-range clays
Quarter
Three-eighths
Half – Andy recommends for birds at about 45 yards/metres
Five-eighths
Threequarter
Full – Andy recomends for at about 60 yards/metres
Extra full – the tightest choke for long-shot specialists
Whether you change chokes every time you go out, or allow them to rust gently into your barrel (Don't do that!), chokes are an essential part of every modern over-and-under gun. You can still get fixed choke barrels, but the world has turned more to multi-choke, so you can change the chokes you are using depending on what you are shooting.
Andy is sponsored by:
Blaser Blaser.de
Jack Pyke JackPyke.co.uk
For Regan's Instagram page, visit Instagram.com/regan_moore27
Click here for all our films with Andy
For our full report on the day's pigeon shooting, go to Fcha.nl/stock-dove-or-woodpigeon