This is the Fieldtester survey where we asked you to tell us about your kit back in 2020, and boy did you respond. 3,500 completed surveys came back to us, 10% of which are about PCPs, 10% of you told us about your airgun pellets, only 5% are about spring-loaded air rifles, which is why springers didn't make it into our PCP survey.
So, when it comes to break-barrels, who are your favourites? This is the big prize: the Fieldsports Channel viewers' most popular springer airgun – BSA has 16% of the market of Fieldsports Channel viewers with Weihrauch just ahead on 18%.
Are you an airgun manufacturer who wants to buy the results of this survey (names and addresses stripped out)? Please click here for our shop and instant download of our airgun survey
And which springer airgun are you most likely to own? Top models are, in third place, the BSA Lightning, in second the BSA Meteor and first place goes to the Weihrauch HW35.
It's a double win for Weihrauch, which took the top slot, too, for most popular PCP airgun with the HW100. Click here for the results of our best PCP survey.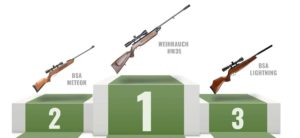 Here's Johnny Muston from gunshop R&K Stockcraft explaining what he thinks is – pound for pound – the best springer air rifle on the market. Johnny chooses the rifle that is the most accurate for under £300.
Chooseing the perfect airgun? Have a look at these survey results: