It's a rat hunting challenge. Roy attempts to take down the ratberg that is his rat-infested lockdown dump/bonfire/trash-heap. Usually he uses thermal on his airgun but this week he has new night vision from Pulsar to try out. Meanwhile, Charlie is in the Lake District with a kayak and a tenkara rod so that he can make up the word 'flyakara'. The RSPB and BBC TV personalities are trying to bring down gamekeeping – Ben O'Rourke looks at their persecution campaign. We round up the most popular rimfire on the market following our massive viewer survey. Also with the help of viewers, Charlie selects his top hunting videos in this week's Hunting YouTube and David is on the News Stump. Find it all in this week's #FieldsportsBritain
Here are the links to the individual items in this show: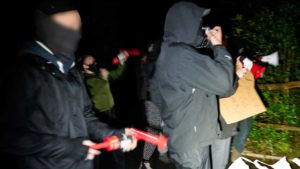 Here are the links:
Sabs step up harassment of couple linked to badger culls – Fieldsports News
Green politician eagle publicity picture row – Fieldsports News
White-tailed eagle injured by wind turbine – Bird Guides
Last call for Virtual Hound Show auctions – website
Irish country show goes online – TheVirtualGameFair.com
Show your backing for the work of shoots in conservation – WorkingforWildlife.co.uk
European partridge project – NorthSeaRegion.eu/partridge and YouTube
Charity painting reaches birthday boy – Fieldsports News
Danish birdwatchers 'lying' to attack hunters – Facebook
French hunters banned from using glue to trap birds – BBC
Antis force Swiss to tighten ibex hunting rules – Fieldsports News
Chinese pet owners anxious after smuggling spree – South China Morning Post
Wedding cake storm as bride bags groom – Facebook
Widget not in any sidebars
Hunting YouTube
"JURA" DEER ISLAND from Euan Myles on Vimeo.
For our gun and hunting YouTube channel rankings visit Fcha.nl/ranking