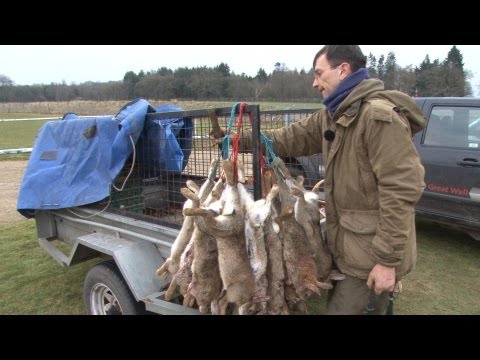 Hardcore ferreting
Simon Whitehead is a professional ferreter, that's part pest controller, part clown, part poet and part transportation engineer. When he's not sorting out the local rabbit population he's writing for Shooting Times or keeping us entertained around game fair arenas across the country.
Today we find him in Norfolk on a new piece of ground that needs the Whitehead touch. It's not crop damage they're worried about, it's people breaking their ankles in rabbit holes on these overspill car parks. And he takes the job very seriously. Ferreting is no casual task. You have to be clinical, you have got to be single minded and a bit selfish, especially Simon, because all he wants to do is catch the rabbits. It might mean putting 100 nets down or 200 nets down, getting the dogs out, shooting at night, staying all night or trapping it. You have to pursue all methods and take any measure to get the job done. That is what Simon does. "Because at the end of the day we are working for a reputation and that reputation will take decades and decades to build, but if you don't do your job you will destroy it in about 30 seconds." says Simon Joining Simon today are Digger, Torchy, Sean, Milly the dog and, of course, Simon's patriotic ferrets. Like all working animals they have their strengths and weaknesses.
Simon chooses which ones to work depending on the ground.
According to Simon it is glass half full or glass half empty with ferrets. If ferrets are working under roads you don't want a ferret that is going to stay there all day with a rabbit, yet a hedge line that would be fine. So it's getting to know how the ferrets work. Some work and some don't work no matter how good their brain. Continual turn over of stock allows you to pick the best one to breed from.

Watch the film
After a couple of cappuccinos (all media ferreters drink cappuccino these days, didn't you know?), we're caffeined up for the first assault of the day, a bank riddled with holes. Simon directs the troops. All escape routes are covered in purse nets. Woe betide anyone who lets a rabbit escape. Simon does not like runners. The rabbits start popping out and some get a helping hand, as Sean pulls one out a hole, ferret still in tow. Simon demonstrates the release of a rabbit from the ferrets jaw, pressing the ferret's forehead. It is important to be humane with the rabbit once it has been caught and then attend to the ferrets. Milly is supposed to be on Simon's side of the fence for any mopping up, but seeing all the fun's on the other side, she gets involved. Closing in a hole she picks up a rabbit. Another healthy rabbit is added to the tally. Ideally Simon wants every rabbit here, estimates between 30 and 40 for the final bag. That will put a smile on his face, any less and well get a grimace. Most of all, none can escape, regardless of the final count. The word, escape, is not one to be mentioned casually with this bunch.
Oh dear, spoke too soon and there is an escapee. Digger gets a yellow card. Simon knows, however, that nets work both ways.
Digger is let off. The rabbit has scored an own hole. It attempts to bolt down a netted hole after giving digger the slip. This is known as back netting. Simon plucks the rabbit out of the net and performs an instant dispatch. Simon rescinds Digger's yellow card.


Sean adds another couple to the tally
Having worked the bank, it is across to the hedge line. With so many holes we play the numbers game hoping to film that bunny rocketing out of the the bury. This one has a quick peek and decides the other way is better. Oops. Bad decision. It heads straight in to the jaws of Milly and then the hands of Sean. Having had some bolting bunnies to start with, they now seem to be holding tight. The ferret finders work brilliantly. Simon locates the ferret then extricates the rabbit. He is well known for his Inspector Gadget-like arms, reaching rabbits others fail to grasp, though even he needs some extra lengt h now and again. A stick will poke that little bot further, Simon can then tell if there is a rabbit lurking just out of grasping pint. With a bit more digging Sean offers to have a quick go at the bank but soon regrets it. We lose a rabbit and Sean gains a golf club."He is grumpy now because he missed a rabbit so he has got his golf club, second rabbit, God forbid it, will give him a golf ball, then a tee and if he does it four times we will get his membership and he won't be ferreting." explains Simon jovially, but still very serious. Lunchtime and Torchy show us his swing.
"That is what happens when cousins make love" jokes Sean as Torchy's drive plumets a 10 yards for the Tee.
"Because of the government's lack of care" intercedes Simon
"What this is the government cut back of the care in the community. They would be locked up with duvet wall paper, but now we have got to take him out." continues Simon.
"Aunty Dr and Uncle Ken" concludes Sean


No one said it was easy work
A few tips and tricks of the trade are revealed. Here's one to play with. The Donk Board. It's a bit like pinball for rabbits. If successful and it keeps the bunnies in play.
The Donk board is placed between stick fencing that runs along either side of a sparse hedge. Stock fencing is difficult to breach, prohibiting the placement of nets
When shooting the rabbits the donk board proves effective. The rabbits are going to feel safe. They run up the hedge, into the board and the board goes donk. Two seconds later the troop will knowis going to come out the side of the hedge. With a long net in place, the rabbits can be persuaded to come out, giving Milly a chance to stretch her legs. At this point Milly is also sporting a head mounted camera. Our first rabbit does bolt but hits one of the few nets and Milly soon hits it.
Simon is cautious of removing rabbits from nets, explaining that they have razor sharp claws and powerful back legs. If a stray leg breaks through the net, serious damage can be inflicted upon the hands. Soon we get a couple that give Milly something to chase. The rabbit is out in the open field and beats Milly to the fence. This is similar to baseball. It heads back down the fence, hits the Donk Board, knocks it over and makes a home run down the hole. The second runner follows the hedge, is turned back by the Donk Board, comes back again and finds a hole. Close exciting stuff.
Milly loses the camera and finally makes contact with a rabbit. It has the scars to show that it's been trying to wait it out at a stop end. Scars on the back of the rabbit show that a ferret has got it from behind.


Look out for razor sharp claws
The boys persist. Each dig delivers a rabbit. It's labour intensive but that's the way Simon operates. For him, this is not sport. He needs to disrupt the population dynamics of these bunnies and that means a multi-pronged approach. Country people have proved it time and time again. By hiding, ferreting, shooting and other methods together, what you don't get with one you will get with another. It is about upsetting their natural cycle, their balance, their breeding stock their numbers. It is about destroying their territory because otherwise they are going to regroup and start over again.
In all the bag is 31 rabbits with the ferrets. Simon's now going out with the night vision and air rifle to upset things even more. Simon Whitehead: he takes no prisoners, never plays golf, and always gets his rabbit.