Rimfire rifles are still as popular as ever, says Ian Hodge of West Country gunshop and online retailer Ian Hodge Fieldsports – and his two best sellers are the semi-auto Ruger 10-22 and the Browning T-Bolt.
The Ruger is in .22 calibre, while he picks a T-Bolt in .17HMR. Both are relatively short in the barrel, which means they're easy to handle inside a vehicle such as a Gator or truck, a popular way to carry out pest control.
Taking the semi-auto Ruger first, Ian says that it's a reliable gun that isn't prone to jamming, especially if you pick ammo that suits the gun and look after it properly.
"It's great fun for target shooting," he says. "You can set up a series of targets and just keep pulling the trigger." For pest control, though, it's as well to remember that fast shooting doesn't give the best accuracy.
The T-Bolt is no slouch, with its straight pull bolt, and has the potential for greater accuracy. Being a .17 HMR, you can expect to shoot further thanks to its flatter trajectory, killing rabbits at up to 140 yards or so. The calibre is capable of giving clean kills on foxes too.
Ian says that in addition to these two best sellers there are plenty of other rimfires available, including the legendary CZ which once made up 90% of his rimfire sales and remains popular.
Price for the Ruger is £520, including the scope, and the Browning, with scope, is £655.
For more about these and other rimfire rifles, go to Ian Hodge Fieldsports.
More on rifles from Fieldsports Channel's Fieldtester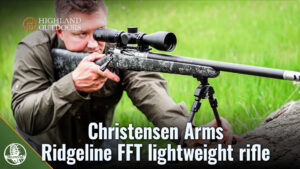 A big heavy rifle is fine for the range, but what if you're walking the hills all day and still need to take a precise
Read More »