A modern precision rifle chassis system offers the ultimate in accuracy, but it might be a step too far for the traditionally minded rifle shooter who wants the fit and feel of a 'proper' rifle stock. That's where the MDT XRS Chassis System fits in. It's a hybrid system that's got all the features you'd expect in the latest chassis, but with a traditionally shaped fore-end, buttstock and cheekpiece.
"You've got the benefits of a chassis with the ergonomics of a stock," explains Ryan Charlton from MDT's distributors, Highland Outdoors. "It's got a full length aluminium backbone that comes down the pistol grip all the way to the buttstock." The precision aluminium V-block bedding ensures fit and function, maximising the accuracy of any rifle action. There's a replaceable over-moulded, textured grip system, with both an angled grip and a vertical grip included in the box."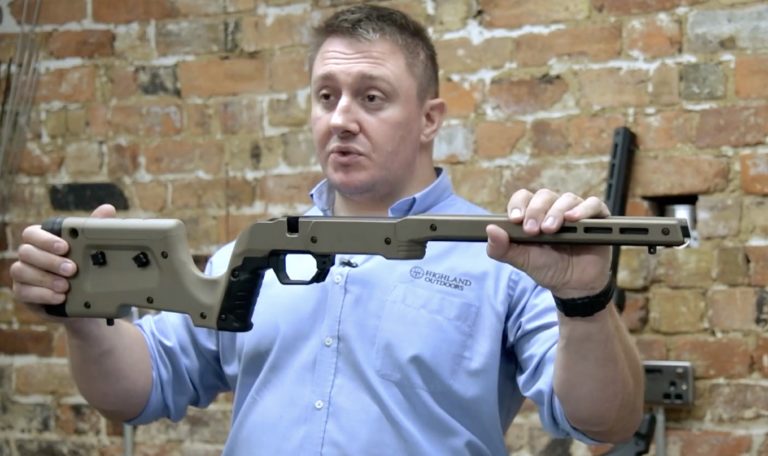 "The fore-end has M-LOK slots allowing you to attach any accessories you need, and there's a sling stud for attaching a bipod or sling.
"The cheekpiece is adjustable for height using the thumbscrews, and the length of pull is adjusted by using the shims," Ryan continues. "One of the best upgrades you can do to any rifle is to use AICS magazines – and that's what this uses. It's a nice ambidextrous mag release which isn't overly large; you're not going to knock it out if you're hunting."
"The key thing with a chassis system is the accuracy improvement you get. It fits you better so it's easier to shoot. But also having your rifle bolted to a solid platform like the CNC aluminium backbone in the MDT XRS, it will be more stable whatever the weather is doing."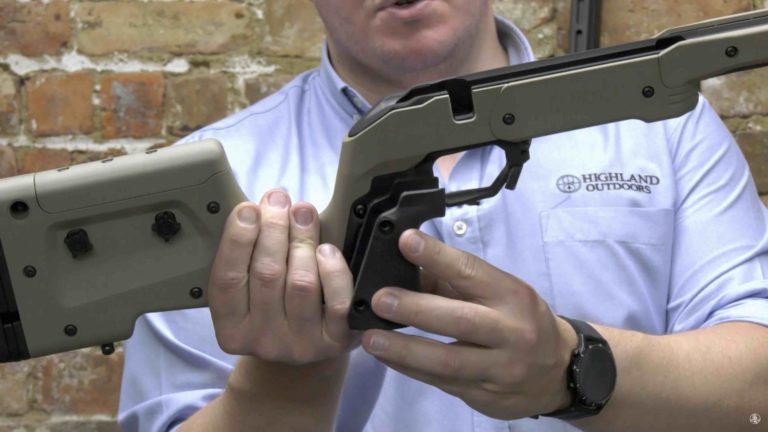 The MDT XRS Chassis System is available for most popular bolt-action rifles, including Remington 700, Tikka T3 short action, Howa short action and more – there are more inlets being added to the range all the time.
"It's great for hunting because it's slim and light, but with the rigidity and adjustability it makes an excellent target shooting platform as well," Ryan says.
RRP £562.99. Find out more at the Highland Outdoors website.