Fieldsports Nation member Joe Wood is a black powder enthusiast. He owns a reproduction 18th-century Brown Bess muzzleloading flintlock musket, and he wants to take it mooching for a rabbit or a pigeon. First, though, he needs to set up a target and check everything is working as it should. Put your fingers in your ears. This could get noisy.
You can find Joe on Instagram
Joe Wood hot smokes rabbit loins over an open fire. Firstly, he cures them, sprinkling on a mixture of salt, sugar, star anise, bayleaf and black pepper.
Cure the rabbit for 15 minutes, rinse off the cure and get the smoker going, using Half a cup of rice, 3 tbsp brown sugar and 1 tbsp Lansang Souchong tea. Fifteen minutes later the rabbit is cooked through and smelling delicious. For the saucee, chop up parsley, basil, mint, garlic, capers, anchovies and add olive oil. Joe serves it on bread with a sauce he prepared earlier, washed down with blackberry wine.
That's just for starters. Next, Joe fries up muntjac and roe fillets. He covers them in foil and leaves them to rest for 10 minutes while he fries an onion and stirs in a few spoons of home-made plum jam to make a chutney. Then he serves it all up in pitta bread.
Ingredients:
For the marinade
Salt

Sugar

Star anise

Bay leaf

Black pepper
For the smoker:
Half a cup of rice

3 tbsp brown sugar

1 tbsp Lansang Souchong tea
For the sauce:
Chopped parsley

Chopped basil

Chopped mint

Chopped garlic

Capers

Anchovies

Olive oil
For afters 
Roe and muntjac fillets

Chopped onion

Plum jam

Pitta bread
More rabbit hunting here: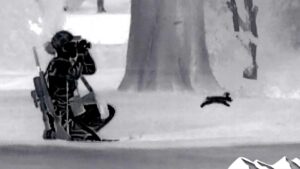 Nicole Moore, Instagram's Shooting Girl with an Afro, has taken on rabbit control duties at a golf course close to her home in Norfolk, where
Read More »