BBC TV host Chris Packham is criticising the government for extending its badger culling. The celebrity describes the decision as "devastating", insisting it "makes very little sense".
DEFRA has added 11 areas to the badger cull zones around England, and up to 60,000 animals will be killed.
Packham, who is vice-president of RSPCA and RSPB, was speaking at the RSCPA's Young Photographer Awards. He says badgers are "wonderful creatures" that are "an important part of the ecosystem".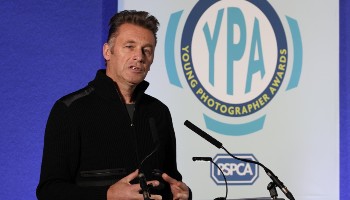 The 'Springwatch' presenter says culling the animals to stop the spread of deadly bovine TB "is wrong" and the animals should be vaccinated instead.
Packham did not address concerns about vaccines, which don't always work, don't rid an area of bovine TB and take a long time to apply as each animal needs to be caught. Vaccines also do nothing to control the increase in badger population – about 88% since the 1980s.
Elsewhere, sabs have been busy attacking people linked to culls.
A couple who own a company that makes tracking devices has been harassed at their home for weeks, with noisy antis waking them and their neighbours regularly with air horns and chanting.
That came after the personal details of hundreds of people involved in or previously involved in culls was released online, including phone numbers and their addresses. Among them are details of Fieldsports Channel's Charlie Jacoby.
Police are investigating Stop The Cull, the group responsible for both incidents. STC has had to move its website to a server to Iceland after its webhost took down its original website. It still has an active page on Facebook.
Now the cull has started, some sabs have been sticking posters up near cull areas warning people. This one was spotted along the Avon river.
The notices are not official and amount to litter and vandalism.
According to the Telegraph. sabs have their hands on badger cull locations after the information was leaked by two MPs. Derbyshire MPs Pauline Latham and Heather Wheeler are said to have written to constituents asking them to support the culls, but accidentally included classified maps showing where they will be.
Latham told the BBC the leak was down to "human error" and "occasionally administrative mistakes do happen". Wheeler refused to comment when asked by the broadcaster.
Sab group Derbyshire Against the Cull pounced on the information and thanked the hapless politicians for doing "the anti-cull more favours than they would like". Its members have already posted photos of traps found and destroyed by using the maps. Tampering with traps is illegal.
Some Derbyshire media is not afraid of exposing its lack of impartiality by embedding 'animal cruelty' videos at the top of its coverage of a local protest against the government's legal cull. In July, we spotlighted JPIMedia's overzealous coverage of a routine report about gun ownership here. The company published identical reports in two newspapers but attributed them to different journalists. The company and the journalists did not respond when we asked how that could happen.
Meanwhile in Oxfordshire, Twitter user 'Neil Bennett & Moose EXTREMIST' also may have broken the law then tweeted about it. He claims to have been checking badger setts with his dog. He does not say what he is checking for. Under the Protection of Badgers Act, it is an offence to disturb badgers in their setts.
Another Sett checked with assistant Sett inspector #moose and a bonus visitor… can you spot it? pic.twitter.com/oHVH9rHqbk

— Neil Bennett & Moose EXTREMIST 🇪🇺🇬🇧 (@peeleyb) September 17, 2020