Scroll down to watch our video reviews of top rimfire rifles
The humble rimfire has long been a favourite of farmers, gamekeepers and pest controllers. It's cheap to shoot, accurate and deadly on pests like rabbits and squirrels.
Rimfires are versatile too. Shoot subsonic hollowpoint .22 ammo through a moderator, and it's as quiet as an air rifle. For ranges up to 70 or 80 yards, standard .22LR solids do a great job, and there are high velocity options if you want a flatter trajectory for longer ranges. You can even get .22 shotshells which are ideal for dispatching pests in cage traps.
Then there's the .17HMR calibre, which performs like a miniature centrefire. The tiny bullet travels at high velocity, making it flat-shooting and extremely accurate out to 100 yards and beyond. It packs a tremendous punch too, dealing swiftly with rabbits, crows and the like. With the right ammo, the .17HMR can be very effective on foxes too, so long as your bullet placement is right.
Top makes of rimfire rifles
There's no doubt about Fieldsports Channel viewers' favourite rimfire rifles. CZ stands head and shoulders above the rest, with 39% of the market. In second place is Anschutz with around 10%, and Ruger is close behind in third place. In fourth place comes Brno, which is owned by CZ, meaning they have nearly half the market for rimfires.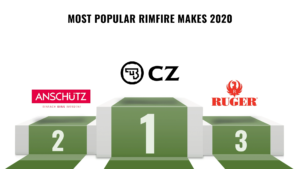 Top rimfire rifle models
When it comes to rifle models, CZ takes the lead again, with its CZ 455 and CZ 452 models heading the list. Those are traditional-looking bolt-action, magazine-fed rifles, chosen by those who're looking for an affordable workhorse which shoots well for the money.
In third place is the Ruger 10/22. With millions sold over more than half a century, this semi-auto is America's favourite rimfire rifle, offering rapid follow-up shots and consistent, reliable performance with a 10-shot rotary magazine.
Fourth in the list is the Sako Quad, a more refined bolt-action rifle with the ability to swap barrels so you can shoot four different calibres with one rifle: .22LR, .22WMR, .17HMR and .17 Mach 2.
Fifth place goes to the Browning T-Bolt, a rugged straight-pull bolt-action that offers fast and smooth reloading from the 10-shot magazine, with a spare 10-shot magazine stored in a compartment under the butt-pad of the stock.
Honourable mentions go to the Anschutz 1417, which Fieldsports Channel viewers  rate highly for reliability and value for money, and the Sako Finnfire won viewers' vote for fit, looks and accuracy.
Finally, when it comes to the most popular models, it's worth noting that you Fieldsports Channel viewers hang on to your rimfires. The average age of the rimfires you own is more than 12 years.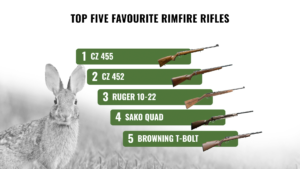 Popular rimfire rifle ammo
When it comes to rimfire ammunition brands, you are similarly polarised. Eley, Hornady and CCI each have between 15% and 20% of the market. The winner with 30% of all rimfire ammunition sold to Fieldsports Channel viewers is Winchester.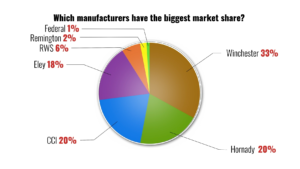 The best rimfire rifles for pest control
Gunshop owner Ian Hodge rounds up his most popular rifles for pest control in the £500-£700 price range – including the Browning T-Bolt, Savage B17, and the CZ models. "Airguns are fine for garden use, but if you want to do serious rabbit control you need to go up to a .22 or .17 rimfire," Ian says. 
The Chiappa 'Little Badger' 
£190-£230
survey of UK gunshops – price range depends on spec
Cheap as chips and billed as a 'survival rifle', the Little Badger from Chiappa is a great everyday working tool. It comes in .22, .22WMR and .17HMR, and is ideal for dispatching a squirrel in a cage trap, or knocking over a rat at a feed hopper. It's easy to carry around, with its skeleton stock and folding in half so you can stash it in a bag or rucksack. There's Picatinny rails to add a scope, torch or laser, as well as a pistol grip, and you can add a moderator to make it virtually silent with subsonic ammo. Dan Bibb from Shooting Sports UK runs through its features in the video.
Bergara BMR Steel action rimfire
£560-£600
survey of UK gunshops – price range depends on spec
UK importer RUAG has introduced two new rimfire models to the UK – the Bergara BMR. This one is the Steel action model; there's also a Carbon model. The price is very competitive, with the Steel version selling for £560. It comes in three calibres: .22LR, .17HMR and .22WMR. This one is the .22LR, with an 18-inch barrel. For testing purposes it's been set up with a Meopta scope on the Picatinny rail, and a Hausken moderator on the standard 1/2 in x 28 thread. In this video, Charlie Taylor from RUAG talks us through the rifle's features.
Bergara BMR Carbon rimfire
£640-£650
survey of UK gunshops – price range depends on spec
RUAG's other new rimfire model in the UK is the Bergara BMR. This one is the Carbon model. The BMR Carbon is lightweight, at just 5lb with the 18-inch barrel. It's competitively priced too, starting at £640 retail. It comes in three calibres: .22LR, .17HMR and .22WMR. In this video review, Charlie Taylor from RUAG talks us through the rifle's features.
Savage B17 .17HMR
£600-£750
survey of UK gunshops – price range depends on spec
The B17 is game chef and deer manager Mike Robinson's favourite .17HMR rifle. Rifles are as much tool of the trade for Mike as knives and chopping boards. He serves a lot of rabbit in his British restaurants, the Pot Kiln and the Harwood Arms. "The .17HMR is my go-to calibre for rabbits," he says. "It's good for hares too, although we don't shoot a lot of those now, just when someone has too many on a piece of ground and we'll take a few. I also use the .17HMR for getting rid of rats around my chickens," Mike adds.
Ruger Precision rimfire
£600-£700
survey of UK gunshops – price range depends on spec
Following on from the huge success of Ruger's Precision Centrefire rifle, the gunmaker has produced a Rimfire version – and that's gone down a storm too. It's a faithfully downsized version of the centrefire, and is proving popular for long-range pest control as well as training. In this video Andy Norris from Viking Arms runs through the rifle's features.
Sako Quad
£600-£800
survey of UK gunshops – price range depends on spec
Andy Crow takes his Sako Quad and two different cartridges out into the field to see what works best on rabbits and in which part of the farm.
What if they ban lead rimfire ammo?
What happens if they ban lead ammo for rimfires? In this video Tim Pilbeam tests non toxic ammunition for .22 and .17HMR. While the .17HMR results are OK, the .22 results are disastrous. Does this mark the end of one of the world's most popular calibres? Tim tries out the following rounds: Non-toxic Winchester 15.5gr, Hornady 17gr V-MAX .17HMR lead-free, CCI 17gr, 26-grain Winchester Varmint LF in .22, and 24-grain RWS High Velocity Green in .22.
Click here to see Fieldsports Channel's coverage of rimfires,
and watch our experts using them in the field.