Like irregulars in a war film there are gangs of different shooters who rely on semi-automatic shotguns. Wildfowlers love them, gamekeepers, pigeon and crow shooters need them, some clayshooters swear by them (and occasionally at them).
Semi-autos have a lot going for them. They handle and point well, and the mechanism soaks up recoil, making them well suited to young shots and beginners, as well as shooting heavy loads for wildfowling and the like.
They also offer great value. Semi-autos are relatively inexpensive, and you get a lot of gun for your money – as Ian Hodge explains in the video above, where he picks out the top two most popular semi-autos chosen by serious users in his shop, typically as a second gun.
"People will spend £2,000 on an over-and-under, but for a second gun they're generally looking at something under £1,000," Ian says. He finds that the latest model Browning Maxus and Franchi Affinity generally hit the spot for 90 per cent of customers.
It's true a semi-auto won't be welcome on a formal driven game shoot, but it's perfectly acceptable for just about every other type of shooting – and may be the most practical option.
A semi-auto is the best choice for pigeon decoying, for instance, because you can reload without bringing the muzzles into the hide. It's also a popular choice with gamekeepers as a gun to carry on their rounds for impromptu pest control.
Many gamekeepers choose the rugged Benelli semi-auto or Winchster SX4 for day-to-day work, often an extended magazine version that requires a firearms certificate. The Browning Maxus II is gamekeeper Geoff Garrod's gun of choice however, as you can see in our film Gamekeeper's Diary: 15 years on.
Below you'll find a selection of films about semi-autos that we've made at Fieldsports Channel.
Can you buy a decent semi-auto for under £500?
We put Dan Bibb of Shooting Sports UK on the spot: what semi-autos can he offer for under a monkey?
Quite a lot it turns out. He's got several well-made, reliable semi-autos on the shelf, including a nice ATA and a couple of second-hand Beretta 302s, arguably the ideal pigeon hide gun. Watch the video for details.
Biggest selling semi-autos in the UK
Semi-auto shotguns offer great value, smooth shooting and minimal recoil. With such a wide variety available, which one do you go for? In this video Ian Hodge runs through the models that sell best in his Cornwall gunshop. Spoiler alert: he's a big fan of the Browning Maxus, Winchester SX4 and Hatsan Escort.
The Browning Maxus II
David Stapley from Browning's UK importers runs through the features of the Browning Maxus II, the latest model of the hugely popular Browning Maxus semi-auto shotgun.
The Maxus II is gamekeeper Geoff Garrod's gun of choice for pigeon decoying and general pest control, and with features like this at an affordable price, it's easy to see why.
Breda 930i semi-auto
One glance at the Breda 930i will tell you it's a top of the range semi-automatic shotgun made for competition clay shooting. Its distinctive looks set it apart from other guns on the market, with its stylish Italian lines, polished receiver and blue or red anodised parts including the trigger guard, bolt handle and fore-end retaining cap. In this video, Andy Norris from importers Viking Arms talks through the Breda 930i.
Best semi-autos – viewer survey
Which semi-autos do the Fieldsports Channel audience prefer? We sent out surveys in March 2020 and more than 3,500 of you filled out the questionnaires (it's as if you had nothing better to do). Of those nearly 500 semi-auto owners responded.
The most popular semi-auto among our viewers is, from Turkey, the Hatsan Escort, with 10% of the market all by itself. The Browning Maxus wins second place. Third place goes to the Beretta A400 series.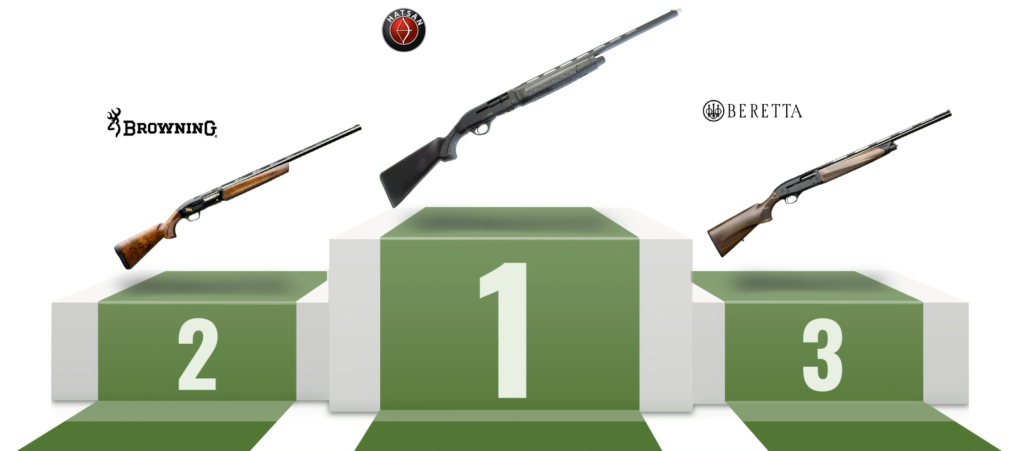 We learned some other interesting stuff, too:
More than half of you own one of just ten semi-auto models
90% of you own semi-autos by eight gunmakers, so it's a tight choice
Half of you bought your semi-auto within the last five years
Half of you spent less than £500 on your semi-auto
We have seen which are the most popular guns. Manufacturers will want to know which are the most popular gunmakers. Here are the results:
Winner with more than a quarter of the market is Beretta. Second goes to Benelli, which is also the winner for customer service, and third is Browning

We asked you to give your semi-autos star ratings. The prize for value for money goes to the Armsan A612.
In a market of notably young guns, the prize for long service goes to the Remington Model 1100, which is unusual in that more than a third of you who own one have had yours for more than 20 years.
One gun cleans up all the rest of the star ratings. According to our viewers, the winner for fit, for pointability, for looks and for reliability is the Browning Maxus.

Semi-autos tend to be young, accessible, cheap, and are growing in popularity. We hope that finding out what the rest of the Fieldsports Channel viewers own will help you choose your next semi-auto.
Your comments
• Viewer Melvin Percy says: "I have had several over the years and my current model is the Beretta A400 Unico. Great gun for pigeons and wildfowl. Negligible recoil with the 'kick off' system and future proofed with 3 1/2 inch super steel proofed chambers. Won't be changing it."
• John Bernard has been a semi-auto shotgun user since 1979 for clays and woodpigeons. He says: "This much I know, the Beretta gas operated 12g versions were faultless but only if 32 gram or heavier shells were used. The issue was they needed regular, thorough cleaning. In the 2010s I saw how the inertia 12g versions were on a complete par with gas operated but did not need the same strict cleaning regime. I bought one, a 12g Benelli, and with 28 gram or heavier shells it hasn't let me down."
• John Griffiths: "I would give anything to have my 303 back. It was an amazing shotgun. I paid 120 quid for it second hand, it was epic."
• GWLAD: "I bought my Hatsan Escort brand new 3 years ago, never jammed, cycles light loads, patterns well, 5 year warranty. Best £300 I have ever spent, wonderful shotgun."
• Dave Graham: "My choice would be a second hand Franchi Affinity. Without snobbing on Turkish guns or a Beretta of any model like a good 391."
• Ryan H: "ATA Venza is class. I have it in Max 5 camo, use it on geese."
• Tim Earp: "I paid £385 for my 302 over 10 years ago, made in 1986, I love it. Not the lightest but does the job."
• Michael Sherrard: "The best semi-auto I ever owned was a Beretta 303 that I gave 300 quid for and had for years; she never missed a beat."
• Stjepan Burazin: "I heard lot of owners of ATA semi-auto shotguns complain about its action. Most of those same hunters sold theirs. As for me I got a double barrel Baikal TOZ 34 OU (40 years old) that I would not swap even if someone offered me a new one. PS I don't have a problem with semi-auto hunting rifles just to be clear on that."
• RR Continued: "Is there really any point or advantage to a UK legal semi-auto shotgun that can only have 3 round capacity?"
      • Nick Horten replies: "Yes."
• ModernSpaceGamer: "Got a second hand Hatsan Escort magnum for 125 and it's never failed me."
• Joubs: "Bought myself a Stoeger M3000 new for £375 a little over two years ago. Comes with 5yr warranty. It's been dropped, fully submerged in ditches, used as a walking stick and shot over 3000 cartridges but has never failed to cycle despite my non-existent cleaning regime. It might not be as pretty as the Franchi/Benelli inertia alternatives but for a workhorse it's outstanding."
• David Johansson: "For 50 pounds or so you could buy a Remington 1100."
• Yeah Bee: "For just a little more you can get a Franchi Affinity brand new. Mine has been 100% reliable, they come in left-hand too!"
• Archie 98: "I paid £50 for my Winchester 1500 XTR and it's never failed."
• Paul Harrison: "Hatsan best value for money ever."
      • Josh Walker: "They jam all the time."
      • Paul Harrison: "A few boxes of high brass cartridges thru it first then mine has been fine, might jam 1 in 200 shots."
      • stonefly514: "Can't remember last time my very early Hatsan semi jammed. Shot literally 1000s of cartridges through it, even Comp X 21 gram, no problem! Keep the internals clean and don't over lube. Takes the Mickey out of more expensive guns!"
• Bee Boop: "Beretta 301, 302 or 303 are some of best semi-autos ever made, can't go far wrong."
• John Bernard adds: "Further to my earlier reply to this topic, there are a lot of low-priced, quality semi-autos to be had, both new and second hand. The gas-operated Beretta 301/2/3/4 models have come down significantly in value at UK auctions; a 301 is a great starter which dates back to the late 70s and there are some perfectly good examples to be found.
    These gas-operated semis do require frequent cleaning, unlike the inertia-operated semis. The 302/303/304 versions are slightly refined 301s. Regardless of the overall appearance a rule of thumb for determining how much use one has had is to look closely along the bottom of the cartridge loading/ejection opening to check for visible signs of wear, as a significant groove appears on a gun which has fired a lot of shells. This visible check also applies to most other semi-autos.
    For a newcomer wondering which gun to buy, there isn't a better, cheaper gun than a Franchi Affinity inertia-operated semi-auto. It is one of the best budget autos – its system is by Benelli."
Click here to join in the conversation in the comments on YouTube.