Fieldsports folk do a lot of walking over all kinds of difficult terrain, from rocky mountain slopes to slippery mud and grass. We want a sure footing and dry, comfortable feet all day long – ideally in a boot that will last a season or two of hard use.
That's a big ask, but boot manufacturers have risen to the challenge. There are some great boots on offer, but how do you find the right ones for you, and how should you care for them to get the best value from your investment?
Trust Fieldsports Channel's experts to guide you through the maze: the films below will tell you all you need to know.
What boots do the professionals wear?
Hanwag Trapper Top GTX, from £350
Robbie Shedden from Cluny Country deals with plenty of professional gamekeepers, stalkers and deer managers, so he knows what they look for in their boots. Far and away his biggest seller is the Hanwag Trapper Top GTX. "This is definitely the go-to boot for professionals. We sell a lot of these to hill stalkers and keepers." They're Gore-Tex lined and have a replaceable Vibram sole, which prolongs the life of the boots. "They're comfortable too," says Robbie. Watch the video for more details.
Härkila's new range of hunting boots
Pro Hunter Ridge GTX, £330
If you think you know Härkila boots, think again. In 2021 they came out with a brand new range that's even better than before, all with Gore-Tex to make them waterproof and breathable.
"We've been making boots for seven or eight years now, and we've learned a lot in that time," says Härkila's Simon Esnouf. "The new boots are made in Europe, so delivery times are much shorter, and we're working with a very good company to develop some really super products."
Watch the video for details.
Jack Pyke Fieldman and Hunter boots
Jack Pyke Hunter boots, £140
Farmer and pigeonshooter Andy Crow loves his Jack Pyke boots. "I wear them every day of the year," he says. "They're so comfortable, I'd rather wear these than a pair of trainers. You don't even know you've got them on. It's the soft leather."
Andy wears the shorter Fieldsman boots in the summer, and switches to the higher Hunter's boots when the weather is wetter and colder. They're warm and waterproof, and they've got the Vibram soles for grip." Watch the video for more.
Why Cai ap Bryn loves his Treksta stalking boots
Treksta Lynx Boa GTX 8″, £260
Fieldsports Channel's Cai ap Bryn has been testing the Treksta Lynx Boa GTX hunting boots – and he's impressed. "Meindl boots have done me well, but I agreed to try these, so I took them on a hunting trip to Ireland. The main thing is they're really comfortable, with high arches that help with your posture." Cai likes the quick-release Boa lacing system too. "So far I can't fault them," he adds. Watch the video for details.
Expert advice on choosing and using boots
Paul Childerley has tried and tested a lot of hunting boots over the years and has amassed quite a collection. Not just because of his self-confessed boot fetish but because he has a rigorous boot care regime, with a three-day rotation of wearing, drying, and airing.
This video is packed with tips and advice on looking after your boots, from a professional stalking guide and gamekeeper who really puts his boots through the mill.
How to get boots that
really

fit

Professional deer manager Jason Doyle bashes his boots to bits, stalking in every kind of terrain from mountain to moorland to woodland – and his number one priority is comfort.

In this video Jason explains how to make sure a boot fits you, before you commit to buying it.
Not forgetting the trusty wellies
Jack Pyke wellingtons, £45-£90
Walking boots are the obvious choice for stalking in difficult terrain, but there are times when the good old welly boot is the best option. In this film, Fieldsports Channel's Jason Doyle runs through the Jack Pyke range of wellies and explains what's what, from the Ashcombe Zipped Wellington for a formal game day, to the general purpose Ashcombe Neoprene Wellington, and the shorter Ankle Wellie Boots that slip on and off and are ideal for summer.
Gateway 1's Pheasant welly boots
Gateway 1 Pheasant wellington, £100
Sergio Couto gives his boots a hard time. As a professional stalking guide, he's out in all weathers – and he's very impressed with the Gateway 1 Pheasant Game wellies, a Danish brand that's made in China. "They're tough, really tough," he says, "Comfortable too."
Sergio likes the combined YKK side zip and adjustable gusset, which makes it easy to get your foot in and out. The boots have a 5mm neoprene lining and Lynx Ice-Grip patterned sole; they are comfort rated down to -10º C. Watch the film for more details.
Most popular hunting boots – viewer survey
There are so many walking boots, so many makes and models. So which do you choose? Well, there is one clear winner among Fieldsports Channel's viewers, with nearly a quarter of the market.
Out of the 3,500 responses we had to our Fieldtester survey in March 2020, 445 boot owners gave us their answers. Six products stood out: Meindl's Dovre hunting boot and Dovre Extreme, the Härkila Pro Hunter and Härkila Mountain Hunter, the Dedito Moorland and Le Chameau Mouflon.
We asked respondents to rate them for comfort, waterproofing, durability, value for money and, if they had to go away for mending, customer service. Leather hunting boots did well. Here are the ratings winners: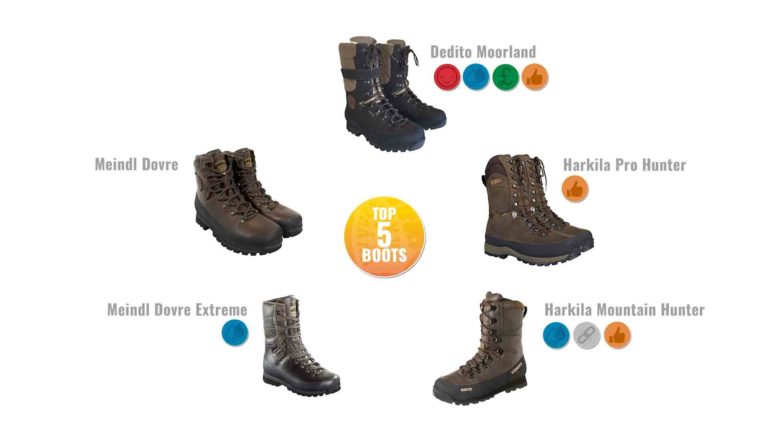 One trend is the supremacy of the Gore-Tex brand, called GTX in boot world. Invented in 1969 in Delaware, USA, by Wilbert L Gore and his son Robert, it's been a 50-year success story. It offers waterproofing with breathability. Lots of boot manufacturers use GTX, including Ariat, Brasher, Ecco, HanWag, Lowa. Scarpa and Zamberlan. Most of you who have a GTX boot have either a Härkila hunting boot or a Meindl hunting boot. Click here to watch our film about the Gore-Tex facility in Germany.
When it comes to the manufacturer that dominates the hunting boot market among Fieldsports Channel viewers: maybe no surprises – it's German company Meindl, which has a massive 22% of the market. Härkila, in second place, has 12%.
Founded in 1683 by Petrus Meindl, the Meindl company produces the Desert Fox combat boots issued to soldiers in the British Army and Royal Marines in Iraq and Afghanistan, and the Army Pro issued to soldiers of the French Army. While you are tramping up a hill or over a moor in your Meindls, be aware that skydiver Felix Baumgartner also used Meindl boots in his 2013 jump from space.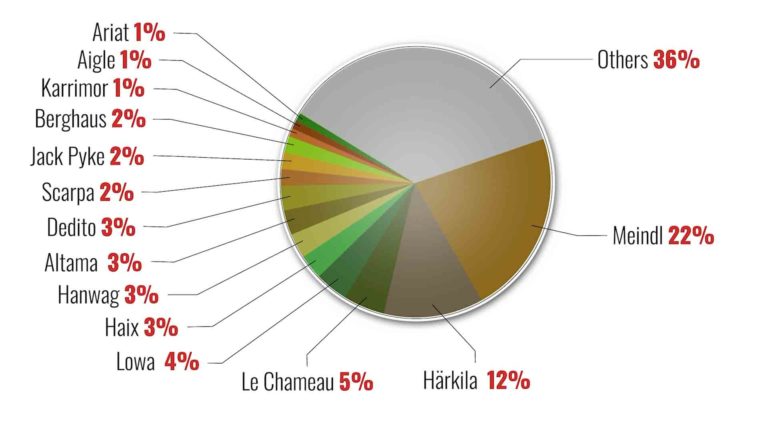 Your comments
• La Bella Escrima says: "Wrap your laces twice so they won't slip and then make your knot. Works for me been doing this now for 30 years, try it out!"
• Lizio Farrugia: "I always try both feet because I have one slightly bigger than the other."
• David: "Had a pair of Harkila Pro Hunter GTX, they fell apart after two seasons, Got Meindl Dovre, lasted 3 seasons so far without issue."
Click here to join in the conversation in the comments on YouTube.