Andy Crow is shooting pigeons and Roy Lupton is on a driven wild boar hunt plus stalking in to a monster fallow buck in Sweden. Andy sets up the decoys as normal – but he faces the problem that the birds are feeding on beech mast, which is making them difficult to attract. Roy's problem is simply the number of huge fallow bucks, plus the difficulty of shooting animals on the run. Find out how they both get on in this week's #FieldsportsBritain. That's not all. Edward King explains the mysteries of how to tip the gamekeeper, Hunting YouTube brings you the latest top hunting films on #YouTube, plus David is all dressed up thanks to Baleno clothing in order to read this week's News.
Here are the #YouTube links to the items:
▶ Crow on pigeons
Decoying kit from UK Shoot Warehouse www.ukshootwarehouse.co.uk
Clothes and camo from Jack Pyke www.jackpyke.co.uk
Clear Pigeon cartridges Gamebore www.gamebore.com
Crow shoots a Beretta www.gmk.co.uk
▶ Roy on foxes and fallow
For more about Aimpoint sights, visit www.aimpoint.com
▶ Shoot Curious?
Gamebore cartridges www.gamebore.com
AYA guns www.a-s-i.co.uk
▶ Here are the links from News:
The grouseshooting debate on Parliament.tv: bit.ly/westminstergrouse
Aeroplane lands after hitting deer: twitter.com/lancasteronline/status/790944273147502592
For more about David's clothes, go to www.baleno.be
Here are the #YouTube links to the films in Hunting YouTube:
Into the wilderness www.youtube.com/watch?v=navkc2GKcHY
MCQ Bushcraft www.youtube.com/watch?v=l_hYw44PfRg
Leszek Kamińśki www.youtube.com/watch?v=tYsHT9qaaHY
Nigel Humphreys www.youtube.com/watch?v=51Fu0JEvI_M
Colin Humphreys www.youtube.com/watch?v=GJKTgiPeWgI
Adventurer Ali www.youtube.com/watch?v=xMWLTLTjP3s
Coopers Hill www.youtube.com/watch?v=1ewqYxrqxHE
Jægernes Magasin www.youtube.com/watch?v=i21FipRQ3dY
▶ Shares 
To find out how to join the Fieldsports Nation, visit FieldsportsChannel.tv/shares or to sign up and pledge, go to fieldsports.envestry.com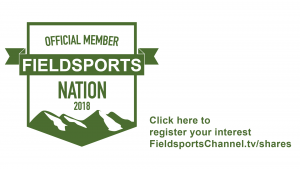 We're proud to promote enjoyment of fieldsports and the countryside. There are three guiding principles to everything we do on Fieldsports Channel:
▶ Shoot responsibly
▶ Respect the quarry
▶ Ensure a humane, clean and quick kill
Take part in nature. Join the Fieldsports Nation Fcha.nl
Risk warning: investments of this nature carry risks to your capital as well as potential rewards. Approved as a financial promotion by Envestors Limited. Which is authorised and regulated by the Financial Conduct Authority (No. 07236828.)
Sign up for our weekly email newsletter FieldsportsChannel.tv/register