Pants, breeks, breeches, waterproofs – call them what you want but they're all trousers.
The standout brands in our survey are Deerhunter and Härkila. Deerhunter was the choice of most people, beating Härkila by one vote.
But the single most popular design by far was Härkila's Pro Hunter.
Ian from UK says they are "the most comfortable waterproof and hardwearing trousers I have ever owned", although expensive.
While they may be the most popular, they could be improved, say some wearers. Avian from Britain says they should "replace press studs with buttons", while Gary, also from the UK, would like "an expanding waist". Jens Ditlev from Denmark recommends using jeans buttons and the "pockets are too tight".
The company describes them as "extremely hardwearing shooting trousers" that are waterproof and breathable with snap buttons, belt loops, numerous pockets and a snow lock.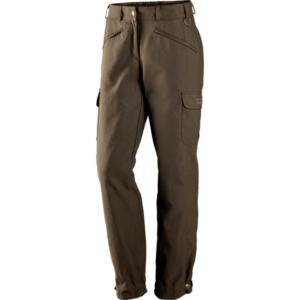 There are various styles and prices, including Active, Move and X styles, range from £279 to £419 on the Härkila website. We found some styles as cheap as £199 at Linnell Countrywear. Plus they are available on Amazon.