With most of the world under lockdown, there are tight restrictions on who can hunt or shoot and where – nowhere nore so than here in Britain.
BASC, Countryside Alliance and British Game Alliance have all written to the government to ask that hunting and shooting restrictions be relaxed.
BASC sent an 11-point guide on how deer stalking should resume once coronavirus restrictions are lifted. A letter to Environment Secretary George Eustice outlined the damage being done by deer in the absence of essential management and has identified steps that could be taken to ensure the work resumes in line with social distancing requirements.
Martin Edwards, BASC's head of deer management, said the guide "allows a clear route for all deer management to continue in a safe and secure manner for the benefit of our members".
At the same time, the BGA sent an eight-page dossier suggesting shooting should be among the first activities to resume when the lockdown is over. Specifically, essential pest control such as rabbit, deer and pigeon, which can be done alone or in "household groups only".
It also says shoots should comply with social distancing measures.
Countryside Alliance sent a proposal for a "phased return of shooting activities", with the focus on "essential pest control", echoing the BGA statement.
We asked the viewers of Fieldsports Channel through YouTube, Twitter, Facebook, Instagram and LinkedIn what's happening in their countries around the world. Here is what you told us: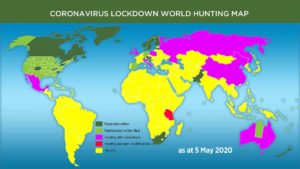 Can you add info to this map? Please email ben@fieldsportschannel.tv
Argentina 🇦🇷
In our only response from South America, Airgunnerbonaerense complains that "we can't travel nowhere" because of a "total lockdown".
Australia 🇦🇺
In Australia, restrictions on hunting vary in each jurisdiction but are generally severe. Some state governments announced the relaxation of social distancing.
Shooting ranges in the Northern Territory were relaxed on May 2, but shooting times are limited and there are strict social distancing rules. These will be relaxed further in June.
Shaun W says on 11 May "we may possibly be able to if they relax the restrictions".
In New South Wales, 🔶 Public land hunting resumes + licence extensions approved 🔶
Minister for Agriculture Adam Marshall announces that public land hunting will resume from Friday 8 May, with bookings open, as part of the easing of COVID-19 movement restrictions. Marshall also says that R-Licence holders will have the duration of their licences extended by four weeks – the same period public land hunting was suspended. For those hunters whose R-Licence lapsed during the suspension period and do not wish to renew, a pro-rata refund will also be available. Licence holders do not need to apply for the licence extension. Visit www.dpi.nsw.gov.au/hunting/where-can-i-hunt
Ashley Quinlivian says "no hunting or fishing in Victoria".
Michael in Victoria also says "gun shops forced to stop selling guns and ammunition to people holding normal gun licences" but they can still sell to farmers, security companies and police, which he says "is killing the industry which really is their plan".
Shane Gibb adds that at Victoria gun shops "can't even buy ammo".
Jackson O'Brien says pest control is allowed.
Murray Parton in Victoria says "no unless on private property" and complains that the government is "criminalising law abiding gun owners as usual".
Austria 🇦🇹
The hunting season for deer has already started, "so everything as usual", says Markus Gluschitsch. "You have to wear masks when driving in car with other people (not your family). Outside 1 metre distance between each person."
Michael_ott1 say "roe deer open according to state season", although "black grouse was officially cancelled for 2020" in Tirol.
Canada 🇨🇦
In the Great White North, Stewart Frerotte of Ontario says "Turkey is open now."
Croatia 🇭🇷
Hunt_milady says Croatia allows "single hunting".
Denmark 🇩🇰
David Cp says the country is "good to go", with the roe buck season kicking off on 16 May.
Finland 🇫🇮
Finnish Fieldsports Channel viewer tiputipu777 says: "We have no hunting restrictions and gun ranges are open, at least in the countryside. Though, only raccoon dogs and hogs are open." Roe buck will start in two weeks, they add.
Mvarjon says the situation is normal "as long as no more than 10 people gather".
In Finland hunters must take the big game shooting test every 3 years. But because of corona the certificate is now valid for one more year.
France 🇫🇷
Adr complains that people "can't hunt in France but in some areas, since boars are causing too much damage to crops, individual hunting can be permitted (no driven hunt)".
Germany 🇩🇪
In Bavaria, hunting "is allowed with social distancing", says martin freestone. "But other German states have different regs."
Björn Eilers says "if you can hunt and take the game out of the field alone or family or one person from outside your family".
Click here for our story about how Germany lifted lockdown for hunters
Iceland 🇮🇸
Guðmann Jónasson, simply tells us "yes", people can hunt in his country
Ireland 🇮🇪
Seatrout King says people are restricted to staying 2km from their homes. "You can fish, shoot (predator control) if it's within your 2km zone or a farmer on his own land."
Since the survey, the limit has been extended to 5Km.
Pat Devane Ireland tells us authorities allow "pest control with written permission as it is an essential service".
National Association of Regional Game Councils Services said in March the following jobs are considered essential: farmers, farm labourers, farm relief service workers and others in crop and animal production, including vets, and people involved in fishing.
Italy 🇮🇹
Francesco Erriquez bluntly says "Italy is closed!"
Latvia 🇱🇻
Alfred.veiland gives an enthusiastic "yes!" for here.
Lebanon 🇱🇧
Maroun BADR says hunting is "prohibited during spring".
Mexico 🇲🇽
1220dove tells us authorities have "suspended all shooting activity", adding that "the hunting season is over".
Netherlands 🇳🇱
"No special restrictions apply to hunting and fishing," says Thomas Vermeulen, "as long as no more than two people go together, it's fine."
Dutchhuntingstories adds there must be "1.5 metre space between hunters and no more than three persons together at the same place".
Dtienpont says hunting is considered vital "because of crop protection".
New Zealand 🇳🇿
From midnight on Monday, New Zealanders were allowed to hunt on private land and fish.
There will still be some restrictions though.
Luke fish and hunt says "we can only hunt on privately owned land locally".
Norway 🇳🇴
"In Norway it's hunting as usual," Kristian Myrmel tells us. "Big game hunters do not need to do the yearly shooting practice (minimum 30 shots) and test (five shots in vital zones on reindeer targets at 100 metres) this season."
Pakistan 🇵🇰
Shahroze KhurramnIn tells us there are "no such restrictions" but since the season for upland and waterfowl is over, so "there is nothing to hunt legally".
Poland 🇵🇱
Jakub Kuszewski is unsure whether the roe buck season will go ahead as normal. "Poland, hunting and fishing was banned few weeks ago. Now crop protection and fight with ASF virus is possible."
Russia 🇷🇺
Aleksei Morozov @sportinbookworm says Russian authorities have left the decision to allow hunting with "regional authorities with 'recommendation' not to". "Most don't open, or open for residents only. Some decided to close, but reconsidered after hunters' protests."
Slovenia 🇸🇮
"No restrictions" here, according to Žiga Kapelj.
South Africa 🇿🇦
"The hunting season has just opened, but you are only allowed to hunt in your province of residence," says Janus Westraat. "This mainly affects hunters in the Gauteng province, which has the highest population, but no hunting areas, similarly hunters in the Western Cape."
Miguel Tenreiro: "No hunting lodge is allowed to provide accommodation until further notice from the government."
Mark Middelhoven says "recreational hunting is not allowed, but land owners can shoot problem animals on their land". Culling is allowed with a permit, he adds.
Spain 🇪🇸
Spain, which introduced a super-strict lockdown, announced phases of relaxation on April 29, which aim to return the country to normal by the end of June.
Hunting and sport fishing will be not allowed until early June – the exact date is unclear and it may vary from province to province.
Rockbertoboquerone tells us hunting will be allowed "in the same province in which you live from 25 May onwards".
Sweden 🇸🇪
JanNor1983: "No hunting restrictions in Sweden. Some shooting ranges are closed though."
Magnus Westerlund says "No restrictions yet with common sense we are able to perfom crop protection primarily shooting wild boars."
"No restrictions unless you are a party above 50 people😉," says lf Johannesson, adding that beaver, roe buck can also be hunted.
Switzerland 🇨🇭
Sven Böhringer: "In Switzerland there are no hunting restrictions. Your only not allowed to be more than five hunters and have to keep a distance of 2 metres to the next hunter."
United Kingdom 🇬🇧
In England, you're not allowed to hunt or shoot yet. Pest control is allowed, although police in some counties don't see it as essential to protecting livestock or crops.
Fieldsports Channel viewer Wolverine Vermin Shooting said in Cornwall they are "not allowed out according to my local police", adding that "rabbits are breeding fast here".
Hugh Main-Dispatch, who doesn't say which county he lives in, says he is "still hunting by way of 'crop protection'". He's targeting rabbits and pigeons, "So, shotgun by day and firearm by night (with IR)." He adds that he tells the police beforehand so they ignore reports from the public.
Marcus Paul confirms, "all the forces have a different approach, so be careful!" He is in Staffordshire, where he is not allowed to shoot to protect crops.
Patrick Angier sums up UK policy as "very much mixed messages". "If you live on the land and your hunting is for 'work' then yes you can, but this is limited."
Hugh McCann says "no hunting no fishing" in Scotland, while St6fieldsports2020 in Aberdeenshire has "been carrying essential pest control" on livestock, but not crops.
Pete Best in Northern Ireland says lamb protection or crop protection is allowed.
United States 🇺🇸
In the US, the situation is complicated, with each state having its own rules. However, fishing and hunting is expected to resume in most states in May.
Curtis Weller in Colorado says yes, he can hunt, "but, the patchwork of Federal, State, and County level stay-at-home orders, travel restrictions on non-residents, and trailhead closures" makes it difficult. "Turkey is open statewide," he says.
Evergreenstate_hunter says Washington state "is the only state that shut down hunting and fishing for recreation". "Makes no sense at all," he complains. It's expected to reopen on 5 May.
In Kentucky, it's the beginning of spring turkey season. Eric J says "They've suspended issuing out of state licences but state residents don't have any special restrictions. There are some limits on fishing."
Auntiemoney joy says "we are hunting turkey and bear" in Oregon.
Another spring turkey season expected to open in Michigan. "Minimal restrictions in an otherwise heavily-locked down state," says Sam Radowick. "And, of course, no restrictions on criminals and gangs. As usual they can shoot anyone and anything."
Will Rowell In South Carolina says he "just had a pretty good turkey season" and is "looking forward to deer/quail season in a few months". "Covid hasn't slowed us down with hunting," he adds.
In Minnesota, it's still spring turkey season for Steve Kunde. "We are also allowed to fish here in some areas. Some counties are restricting access. Shooting and clays ranges are still mostly closed."
G2G_4i has "been hunting turkeys since April 18" in Maryland. "Social distancing is in effect and recreational hunting is prohibited but subsistence hunting is allowed."
"Hunting and fishing considered 'essential' along with all other natural resource extraction and food production activities," says Alden Park2 in Pennsylvania, where spring turkey season is up and running. "General social restrictions on groups larger than 10 and 6-foot rule should be easy to comply with in the timber!"