The iRay Clip CH50 is a thermal device you can clip on the front of a regular daytime rifle scope to turn it into a thermal scope – ideal for switching from daytime hunting to night-time pest control, without the need to change scopes and re-zero.
As well as the ability to simply clamp and shoot, the CH50 can also be used as a standalone thermal spotter, by fitting the eyepiece supplied in place of the clamp. It makes the unit highly versatile, and invaluable for all types of night shooting and spotting.
The CH50 itself has a resolution of 640×512, with 17 micron pixel size. Frame rate is 50Hz, and it has a 50mm objective lens. Magnification is 1x with the scope, and 2.9-11.6x as a monocular. It has a nominal detection range of 2,597 metres.
Ryan Charlton of distributors Highland Outdoors is particularly impressed with the clip, which fixes the CH50 firmly onto the object bell, and has a soft lining to avoid damaging the scope.
It's designed with a lever locking system so fitting or removing the thermal unit can be done in a matter of seconds. Having corrected the alignment once the unit retains the scope's zero when you remove and replace it.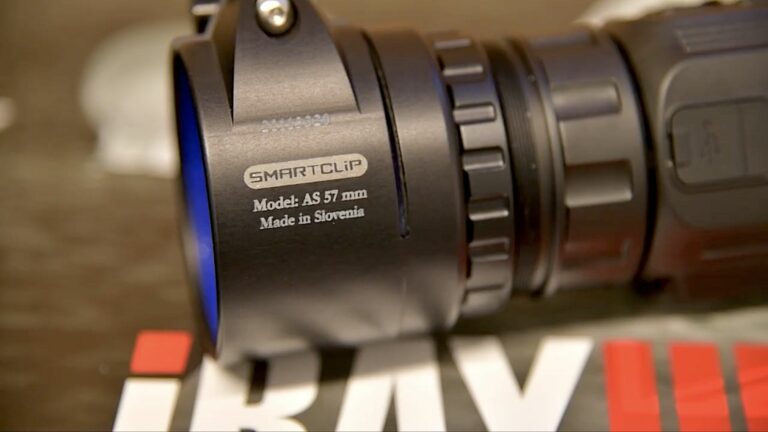 The CH50 adds a little length at the front of the scope, but Ryan says that makes little difference to the rifle's handling in practice. "The weight falls between your hands so actually it doesn't feel any different," he says.
The CH50 retails at £3,779, and the clip is an extra £150 "which for the quality of the clip and the repeatability of it is worth every penny," says Ryan.
Find out more at the iRay UK website.
Check out our reviews of riflescopes and more on Fieldtester.
Have you used the iRay CH50? Join in the conversation – share your opinion in the comments on YouTube.