Keepers praised for Saddleworth wildfire response
The wildfires raging across Saddleworth Moor in Yorkshire sparked a rapid response from the area's gamekeepers.
Helping firefighters with equipment and logistics, staff from local shooting estates were among the first on the scene, which is on land owned by United Utiliites and managed by the RSPB.
In this video, one of the keepers, Richard Bailey, explains what happened.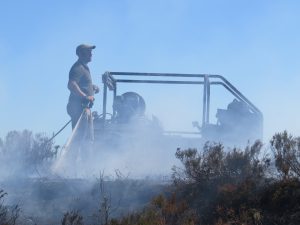 Antis tried to blame grouseshooters for the fire and were embarrassed when they found out it was on RSPB-managed land. Several news organisations, including the BBC, have since pointed out that grousemoor management such as careful muirburn might have benefitted wildlife AND created natural firebreaks.
The RSPB blamed private landowners for deliberately drying the land, earning this response from the Andrew Gilruth at the Game & Wildlife Conservation Trust: "In written evidence to a 2016 Parliamentary Committee, the RSPB stated that moorland drains were 'cut in the 60s and 70s to improve grazing' for sheep. It is bizarre that they should now suggest that gamekeepers dug these drains for their grouse (RSPB accuses gamekeepers of deliberately drying land, July 5). MPs and conservationists alike will feel their attempt to perpetuate this myth is gratuitously misleading. It is equally unfortunate that the RSPB cannot recall their praise for grouse moor owners in resisting grants, from successive governments, to drain their land and plant commercial forestry blocks on what is now recognised as a globally rare habitat. It is time for the commitments made by these private land owners to be recognised, rather than demonised."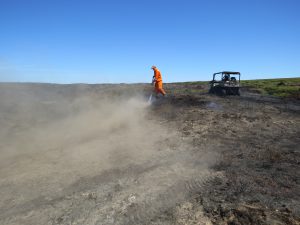 You can see Richard at the Carter Jonas Game Fair Theatre on the first day of the Game Fair at Ragley Hall, 27th July 2018, where Charlie will be interviewing him on stage about the Saddleworth wildfires. Visit TheGameFair.org for details.
Meanwhile, the blazing 2018 summer weather has had an effect on wildlife. With parts of Scotland hitting seven weeks without rain, deer have little fresh grass to eat, and wildfires are devastating large tracts of moorland and forestry. Meanwhile, firefighters are struggling to control a number of major incidents. As well as the Saddleworth Moor fire, another has started at Winter Hill near Bolton, and at sites across Wales and northern Scotland, including Braichmelyn in Gwynedd, Mynydd Cilgwyn in Carmel, and Ben Bhraggie close to the Duke of Sutherland monument near Golspie.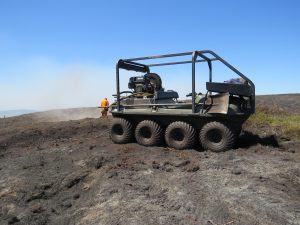 Thanks to Richard Bailey for the footage